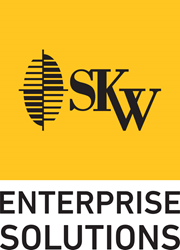 This project is an outstanding opportunity for Vince Mattione's team to collaborate and deliver both the measurement and transmission elements of the project. - Jim Buri, Assistant Division Manager, SKW Enterprise Solutions
NORTH KANSAS CITY, Mo. (PRWEB) November 07, 2017
SKW Enterprise Solutions, Inc. (SKWESI) has been selected by Hickory Run Energy, LLC (Hickory Run) to design and construct a fuel gas delivery facility and infrastructure to supply fuel gas to the new Hickory Run Energy Station under construction in Lawrence County, Pennsylvania.
For this project, SKWESI, a wholly owned subsidiary of Shafer, Kline & Warren (SKW), will provide surveying, engineering, design, fabrication and construction services for the 1.25 mile fuel gas delivery pipeline, including a meter skid and filter separator capable of delivering up to 90,000 MSCFD. Associated instrumentation, valves, a cathodic protection system and radio based SCADA interface are included in SKWESI's scope of supply. The project is scheduled to be completed in 2018. The Hickory Run Energy Station is scheduled to be operational in the first half of 2020.
"SKWESI has extensive experience metering and delivering natural gas", said Jim Buri, assistant division manager of Energy Services at SKWESI. "Their project teams have delivered meter skids and transmission line designs for 30 years; this type of turnkey project is a perfect fit for them. This project is an outstanding opportunity for Vince Mattione's team to collaborate and deliver both the measurement and transmission elements of the project."
The Hickory Run Energy Station will be a highly efficient natural gas-fired, combined cycle power plant with an electric generating capacity of up to 1,000 MW located strategically among the Marcellus and Utica natural gas production areas. When the project is complete, the power generated by the new station will be delivered to the PJM Interconnection.
SKWESI focuses on operational efficiency and delivering long-term profitability for its clients. Its EPC delivery of skidded hardware, measurement buildings and all the related instrumentation and controls enables the firm to streamline projects to ensure delivery of the highest quality design and installations on time and within budget.
About SKW:
Communities begin at Shafer, Kline & Warren (SKW). Since 1950, our surveying, engineering and construction services have helped clients make everyday life better, easier and safer. Our expertise provides comprehensive solutions for energy and infrastructure in communities large and small. Learn more at skw-inc.com.
About Hickory Run:
Hickory Run is owned by a consortium of Tyr Energy, Inc. (Tyr), Kansai Electric Power Co., Inc. and Siemens Financial Services, Inc. (Siemens). The project formally started construction on August 21, 2017, with expected commercial operation by April 2020. The project is a nominal 1,000 megawatt natural gas power plant located near North Beaver Township, Lawrence County, approximately 45 miles northwest of Pittsburgh, PA. Tyr Energy, LLC will provide all asset management services upon commercial operations and NAES Corporation , a Tyr affiliate, will provide operations and maintenance to the project. More information is available at http://www.tyrenergy.com.