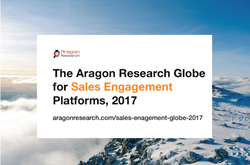 Palo Alto, California (PRWEB) November 07, 2017
Currently worth just over U.S. $1 Billion, the market for Sales Engagement Platforms will grow to be worth $5 Billion by 2021, according to Aragon Research Inc. The explosive growth of SEPs is due to the potential they offer—to eliminate the fractured state of sales tools and provide a complete Digital Selling environment, equipped with key capabilities such as advanced Content Analytics. The Aragon Research Globe™ for Sales Engagement Platforms will help CEOs, CSOs, CMOs, and other executive sales leaders understand the current state of the Sales Engagement market and help them evaluate the major providers in this market.
"As an outcome-focused work hub, Sales Engagement Platforms are the best way to improve productivity and engagement for sales reps, teams, and organizations," said Jim Lundy, Lead Analyst for Sales Engagement and CEO at Aragon Research. "Enterprises that leverage a SEP are seeing better levels of sales automation, productivity, and customer engagement than those that are not."
The Aragon Research Globe™ for Sales Engagement Platforms covers the technology providers that allow an enterprise to manage all aspects and touch points of the sales process. These providers allow sales professionals to manage and share content in a multitude of forms, communicate with the customer via email, phone, messaging, and video, and understand engagement via advanced content analytics.
Aragon clients can learn more in the research report "The Aragon Research Globe™ for Sales Engagement Platforms 2017."
About Aragon Research
Aragon Research is the newest technology research and advisory firm. Aragon delivers high impact interactive research, consulting, and advisory services to provide enterprises the insight they need to make better technology and strategy decisions. Aragon Research serves business and IT leaders and has a proven team of veteran analysts. For more information, visit https://www.aragonresearch.com.