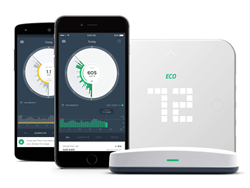 Within just a few short years, Powerley has successfully bridged the smart grid to the smart home.
Royal Oak, Michigan (PRWEB) November 09, 2017
Powerley today announced that the company has received the 2017 Michigan Energy Innovators Award for the Emerging Business of the Year. Presented annually by the Michigan Energy Innovation Business Council, the awards recognize pioneering businesses that have advanced the energy industry while providing economic impact within the state.
"Within just a few short years, Powerley has successfully bridged the smart grid to the smart home," said Manoj Kumar, CEO of Powerley, "As the first company to combine energy management with home automation, we have driven behavioral changes and raised the bar for energy efficiency. This industry-first innovation would not be possible without the incredible talent and innovative partners found right here in Michigan."
Providing real-time energy management, Powerley enables homeowners to see how much energy their home, and every appliance and device within it, are using every minute of the day. And, through a complete smart home experience, provide control of the home and its energy usage via their smart phone, smart watch or voice commands.
"We were very excited to see that Powerley was selected for the Emerging Business of the Year award," said Michigan EIBC President Liesl Eichler Clark. "This award is granted to a new advanced energy business in Michigan that has demonstrated a commitment towards growing and strengthening the state's advanced energy industry, and Powerley's remarkable growth over the past two years is a perfect example of that. We can't wait to see how the company continues to grow."
Founded in partnership with Detroit-based DTE Energy and Vectorform, Powerley is now working with 10 utilities across the U.S. and Canada. The company has continued its expansion since launching in 2015 and is currently available to 5.5 million utility customers.
"DTE Energy is proud of the innovation and the impact Powerley has and will deliver to the energy industry and to the state of Michigan," said Dave Meador, vice chairman and chief administrative officer, DTE Energy, "By reimagining the relationship with energy, Powerley has elevated efficiency and transformed the customer experience. We are also excited about Powerley moving into the home automation space providing an innovative, leading edge solution by utilities for utilities."
The awards will be presented tonight at the 5th Annual Michigan Energy Innovators Gala in East Lansing, Michigan. To learn more about the Michigan Energy Innovators Awards and the complete list of winners, visit mieibc.org.
About Powerley
Powerley is the first company to integrate real-time home energy management within a complete smart home solution. Built together with leading energy providers, Powerley enables utilities to provide an experience in which consumers can manage both their energy and their smart home devices through mobile, wearables and voice via Amazon Alexa. With a constant connection to the home's smart meter, Powerley provides real-time energy usage data for the whole home and every connected appliance and device within it. The turnkey platform is available to energy providers to offer a utility-branded experience to their customers. To learn more about Powerley, visit powerley.com.