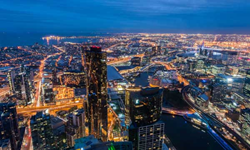 Customer engagement is key in generating future revenues and lowering costs, as utilities face cost pressures. -Utility Executive
Seattle, WA (PRWEB) November 08, 2017
EnergySavvy, the leading provider of utility customer engagement and personalization solutions, and Greentech Media (GTM) Research, the leading independent market analysis and advisory firm on the transformation of the global electricity industry, today announced findings from a new survey conducted of U.S. electric and gas utility executives showing that utilities with the best cost-to-serve and regulatory outcomes score higher in customer engagement maturity––illustrating a positive correlation.
The survey, which measured the relative maturity of utilities across a range of customer experience best-practices, indicated a strong positive correlation between both better regulatory rate case outcomes and a lower customer cost-to-serve among those utilities that report the highest levels of customer experience maturity. For example, the survey found that utilities who have the lowest customer cost-to-serve score nearly 60% higher in customer engagement best practices. Also, results showed that utilities with the best regulatory outcomes score more than 30% higher in customer engagement maturity.
As one utility executive interviewed said, "Customer engagement is key in generating future revenues and lowering costs, as utilities face cost pressures."
The anonymous survey was conducted by GTM Research on more than 60 electric and gas utility executives and staff members, serving 47 U.S. States and territories under differing ownership structures. Respondents represented a variety of functions, including senior executives, customer service, marketing, IT, regulatory affairs, and project/program management, and ranging in level from manager to C-suite. The survey also included one-on-one phone interviews with executives from investor-owned and public utilities. The purpose of the survey was to assess the relative level of maturity in adopting and using customer experience best-practices within the utility industry, with questions centered around 6 key areas or "lenses" comprising different aspects of customer experience maturity: People and Organization; Process and Operations, Systems, Data and Analytics; Customer Engagement; Brand and Market Engagement; and, Customer-focused KPIs and Measurement.
The two lenses with the strongest correlations to both cost-to-serve and regulatory success, survey results found, were investment in customer engagement, and the use of customer-focused KPIs, with the best performing utilities in each of these areas scoring nearly 50% better in customer experience maturity than the worst performers. In addition, the use of customer-focused KPIs, as well as the sophisticated use of systems, data and analytics tools, turned out to be the two most challenging areas for utilities that also had a strong correlation with both positive business outcomes. In fact, the survey showed that utilities with the most comprehensive investment in customer experience tools and software were 200% more likely to have a better customer cost-to-serve than those at industry-average level.
"We've found in other recent research that customer engagement is the number one investment priority for utilities over the next 5 years as changes at the edge of the grid happen," said Fei Wang, Senior Grid Edge Analyst at GTM Research. "However, this study illustrates a customer experience technology gap in the industry. While there are many reasons for this, two stand out: first, more than one survey interviewee mentioned the lack of internal IT capabilities as a reason for slowing down the utilities' efforts in better engaging customers; and second, utilities are still grappling with how to demonstrate the ROI from these investments."
Other key survey findings include:

Utilities were reasonably satisfied with their progress in hiring diversity, corporate responsibility, and community engagement;
Customer satisfaction remains an important metric, though many are placing increasing emphasis on their own, proprietary measures of satisfaction, rather than industry-wide metrics like JD Power score;
In their assessment of process and program operations, most utilities feel good about progress in achieving energy efficiency goals, although overall process efficiency scores were quite low;
Other areas indicated as particularly challenging for utilities were having the right customer experience data, leveraging modern analytics tools, and having high enough executive prioritization for customer experience initiatives;
Most customer experience-related software and technology investment continues to flow to updating core systems such as CIS and CRM. Investment in advanced customer experience-focused solutions and cloud technology still scored low;
Holding utilities back from accelerating their investment in cloud technologies are a lack of clarity about the ability to capitalize cloud software investments, questions about software deployment and integration costs, and the need to find ways to demonstrate long term ROI.
"Utilities are coming under pressure to deliver the modern, personalized experience customers get from Amazon and Netflix, and these results reflect that," said Scott Case, COO of EnergySavvy. "Although the findings highlight areas where a lot of work still needs to be done, the correlation to better regulatory outcomes and lower cost-to-serve also shows the amazing opportunity available to utilities when they make these investments."
View the 2017 Utility Customer Experience Maturity Survey results, or attend a webinar hosted by Utility Customer Experience Consultant and former Southern California Edison VP of Customer Experience Seth Kiner, to learn more about practical lessons today's utilities can learn from the results––and how to apply them to their own customer experience transformation efforts.
About GTM Research
GTM Research is the leading market analysis and advisory firm on the transformation of the global electricity industry. Our research provides critical and timely market analysis for solar, energy storage, and grid edge markets. With an industry-leading analyst team, GTM Research offers comprehensive intelligence subscriptions that include reports, data services, as well as strategic consulting for clients across the energy value chain.
About EnergySavvy
Through data-driven personalization, innovative customer engagement, and automated program delivery, EnergySavvy delivers the utility industry's only purpose-built, cloud-based customer experience platform. By addressing the unique challenges of the utility customer journey––from new move-ins, to service alerts, to value-added energy efficiency––EnergySavvy's suite of cloud solutions solves the utility data problem, works with any system or platform, and delivers unmatched speed-to-value in utility customer experience solution delivery. More than 30 utilities and state programs across the U.S. rely on EnergySavvy to enable their own transformation in the modern, digital customer era. For more information, go to: http://www.energysavvy.com