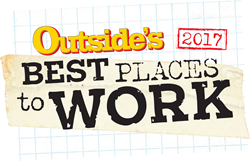 At Shine, we understand that our people are the backbone of the agency. As such, we treat them with respect and fairness, give them room to run and grow, and work hard to make sure that they're always taken care of and well-compensated.
SANTA FE, N.M. (PRWEB) November 07, 2017
OUTSIDE, America's preeminent active and adventure lifestyle brand, reveals the best places to work in the U.S. in 2017. Not only are winning companies great workplaces for employees, but they respect the environment and encourage a balance between work and enjoying life in the great outdoors. For a second year in a row Shine United has been ranked #5 out of 100 companies that made the list and has been included in the top 100 for five consecutive years.
"Companies from across the country entered a rigorous two-part survey process to make the winning list," said Jonah Ogles, Articles Editor at OUTSIDE Magazine. "The Best Companies Group evaluates each nominated company's workplace policies, practices, philosophy, systems and demographics. There's also an employee survey to measure personal experience." The winning companies are those that value productivity in combination with an active, eco-conscious lifestyle, for a fulfilling experience inside and outside the office. This is OUTSIDE's tenth year providing the Best Places to Work and Shine United's fifth year being ranked in the top 100.
"At Shine, we understand that our people are the backbone of the agency," said Curt Hanke, founding partner and CEO of Shine United. "As such, we treat them with respect and fairness, give them room to run and grow, and work hard to make sure that they're always taken care of and well-compensated. Being named the fifth best place to work by Outside Magazine in back-to-back years is a wonderful acknowledgement of a workforce that's committed, confident and high-performing on behalf of the clients we serve."
Shine United is located in a renovated historic downtown building in the heart of Madison, Wisconsin. The space features an open floor plan with several communal areas that accommodate Shine's collaborative work style. Beyond the workspace itself, Shine's benefit package stands as one of the best in the country. Shine pays for 100% of its employees' health, dental and life insurance premiums, provides paid parking and home Internet service, offers competitive salaries, and for those reaching their 10-year work anniversary, a $10,000 bonus vacation.
Culturally, Shine boasts half-day summer Fridays, free bagel Wednesdays, and weekly happy hours. The agency calendar is peppered with extracurricular activities such as the annual summer picnic and a monthly birthday lunch to feed the work-play balance — and ultimately help fuel the creative process. Shine United also strives to play an active role in the community by supporting the American Family Children's Hospital, University of Wisconsin Athletics department, the Overture Center for the Arts, and Outreach for World Hope.
The complete list of OUTSIDE's Best Places to Work 2017 is available at OutsideOnline.com. For a list of past winners and for more information on the selection process, visit http://www.Bestplacestoworkoutside.com.
About Shine United:
Shine United is a $41 million advertising, design, and interactive agency located in Madison, Wisconsin. The privately held company's client roster includes national brands such as Harley Davidson, LaCrosse Footwear, Wisconsin cheese, GORE-TEX® Running Footwear, Amazon.com, Winston Fly Rods, and Kohler Co. Shine is an environment where creativity, brilliance, and teamwork are allowed to flourish — part of the reason we were named one of the best places to work by Outside Magazine the past four years.
Learn more at ShineUnited.com. Shine On.
SHINE UNITED: Aleah Kidd / akidd(at)shineunited(dot)com / 608.442.7373
About OUTSIDE:
OUTSIDE is America's leading active lifestyle brand. Since 1977, OUTSIDE has covered travel, sports, adventure, health, and fitness, as well as the personalities, the environment, and the style and culture of the world Outside. The OUTSIDE family includes OUTSIDE magazine, the only magazine to win three consecutive National Magazine Awards for General Excellence, The Outside Buyer's Guides, Outside Online, the Outside Podcast, Outside Television, Outside Events, Outside+ for the iPad, Outside tablet edition, Outside Books, and Outside GO, a revolutionary, 21st-century adventure-travel company. Connect with OUTSIDE online, on Facebook, Twitter, Instagram and Pinterest.
OUTSIDE: Kailey McGarvey / kailey(at)rosengrouppr(dot)com / 646.695.7046.
ABOUT THE BEST COMPANIES GROUP:
Best Companies Group works with national and local partners around the country and internationally to establish and manage "Best Places to Work," "Best Companies," and "Best Employers" programs on a national, statewide, regional and industry basis. Through its thorough workplace assessment, utilizing employer questionnaires and employee-satisfaction surveys, BCG identifies and recognizes companies who have been successful in creating and maintaining workplace excellence.