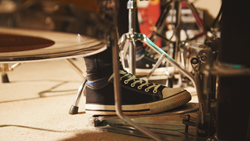 The Rockin' With StorageMart sweepstakes is just another way we can say thank you to those who we share a community with.
COLUMBIA, Mo. (PRWEB) November 08, 2017
StorageMart, the world's largest privately owned self-storage company, is excited to announce the launch of the Rockin' With StorageMart giveaway. The Grand Prize Winner will get a storage unit for a full year to use as a band practice space, as well as a year's subscription with DistroKid to get original music into iTunes, Spotify, Amazon, Google Play, and more.
The giveaway, which comes on the heels of the company's sponsorship of the recent Roots N Blues N BBQ Festival held in Columbia, MO, is part of StorageMart's "Store It Forward" initiative in which the company gives back to the many communities it calls home.
"We might be an international company now, but what got us there was the great people who live and work in the same communities we do. We haven't forgotten that, and the Rockin' With StorageMart sweepstakes is just another way we can say thank you," said Cris Burnam, president of StorageMart.
List of Prizes Offered:

Grand Prize: One year of free band practice space + one-year subscription with DistroKid
First Prize: $50 eGift card from Sweetwater
Second Prize: $25 eGift card from Spotify
Those interested can submit multiple entries through the StorageMart blog. Winners will be selected on December 16th, 2017 and contacted via email on December 19th.
To learn more about the Rockin' With StorageMart sweepstakes, visit the StorageMart website at https://www.storage-mart.com/blog/contests-giveaways/win-free-band-rehearsal-space.
About StorageMart and Store It Forward
StorageMart is the largest privately-owned, family operated storage company in the world with over 200 storage locations in the United States, Canada, and United Kingdom. Led by the Burnam family, StorageMart is also committed to giving back to the communities it serves through its Store It Forward initiative. To-date, the company has donated more than $167,000 to charities and has given more than $400,000 in no-cost or discounted space to local charities throughout the many communities StorageMart calls home. For more information, visit the website at http://www.storage-mart.com.