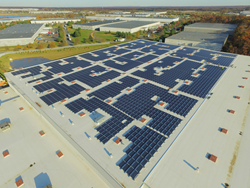 South Brunswick, NJ (PRWEB) November 07, 2017
These projects have proven to be very challenging for the project management team at KB Racking due to the highly custom nature of several aspects. Some notable features include the use of KB Racking's 10 degree EkonoRack 2.0, custom row spacing, custom design to reduce the overall weight of the system and many revisions to guarantee their success.
KB Racking's commitment to superior customer service and ability to assist clients in coming up with tailored solutions, ensured the successful achievement of Evergreen's intricate projects. Peter Aulich, CEO of KB Racking, notes, "Our relationship with Evergreen Energy has always been one of collaboration and continued mutual assistance. We are delighted to be providing solutions and working with Evergreen Energy and we look forward to our future projects."
The CEO of Evergreen Issac Israel adds, "KB's team of engineers was very capable of handling the challenges of each project, and worked relentlessly to provide solutions to any and all issues that arose. The help that KB provided with regards to ballasting the system, and ensuring the electrical aspect operated smoothly with the racking was a huge factor in completing each project successfully".
For more information about KB Racking, please visit http://www.kbracking.com or contact us at info(at)kbracking(dot)com
ABOUT EVERGREEN ENERGY
Evergreen Energy Solutions is a Regina-based distributor and installer of geothermal, solar-thermal, photovoltaic and wind products. They have been providing renewable energy services since 2003. Evergreen is committed to providing homes and businesses with energy solutions which are both environmentally and economically beneficial.