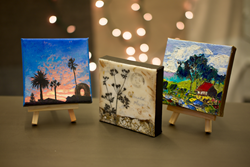 SAN FRANCISCO (PRWEB) November 17, 2017
UGallery, the curated online art gallery that delivers original art to your doorstep, is unveiling its first-ever collection of miniature paintings this holiday season. The custom-made, original artworks elevate holiday gifting and decorating to fine art, offering shoppers a way to make the holidays truly one-of-a-kind.
The inherent emotional value of original art brings families and friends together in the home. As an alternative to technology and other mass-produced giftables for the 2017 holiday shopping season, The Ornamental Artwork Collection offers gift givers thoughtful, unique, and affordable gifts with the convenience of shopping online.
The Ornamental Artwork collection features 350 paintings created by 35 top artists. UGallery commissioned the artists to create series of 10 small-scale paintings that exemplify their individual styles. Ready to be mixed-and-matched, each painting is on an identical 4" x 4" canvas, comes with a small easel for display, and costs a fixed price of $75.
"In dreaming up this collection, our goal was to offer a very personal, one-of-a-kind holiday gift," says Gallery Director Alex Farkas. "We worked closely with each artist to create a series of paintings that are intimate, thoughtful, and long-lasting. It's my hope these charming pieces will become little family heirlooms that remind us of good times and loved ones for years to come."
This collection furthers UGallery's mission of opening up access to the art world through its online platform. With its affordable price point, the collection allows art lovers to begin, share or expand their collections and purchase artwork by artists whose work may sell for thousands.
"At UGallery, we've always believed original art should be universally accessible. This collection is unique in that it offers art buyers the opportunity to take home or gift paintings from artists that typically sell their work for much higher prices. I expect many of these pieces to sell very quickly," says Farkas.
ABOUT UGALLERY
UGallery is a curated online art gallery that delivers original art to your doorstep. Founded in 2006, UGallery passionately represents 500 top emerging artists from all around the world. With free shipping and free returns, UGallery makes it easier than ever to experience the joys of owning original art. Visit us at UGallery.com.