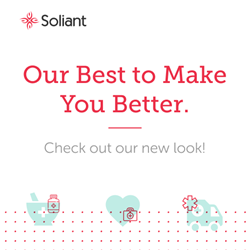 ATLANTA (PRWEB) November 13, 2017
Soliant Health, a leading specialty healthcare staffing provider and part of The Adecco Group, is pleased to announce the launch of its newly redesigned website – soliant.com. The website is positioned to be a leading resource for job seekers and employers in the healthcare community.
The new site is optimized to ensure a user-friendly experience across all digital platforms, including desktop and mobile. On mobile devices, job seekers are now able to scroll seamlessly through various job categories on the site based on specialty and location. Job seekers will have access to a comprehensive portal for all jobs associated with their desired specialty through the following categorical tabs on the new site:

Nursing
Schools
Pharmacy
Physicians
Therapy
Advanced Practice
Healthcare IT
Allied Health
Created with the user in mind, the new soliant.com strives to deliver improved navigation for both job seekers and employers. An improved "Quick Apply" feature allows job seekers to easily and efficiently upload resumes via web-based platforms such as Dropbox and Google Drive. A one-click talent request form allows employers to quickly submit their hiring needs to a specialized personal consultant who is cross-trained by specialty in the placement process.
Visually, the new site makes use of images and specially-designed icons that are modern and bright, promoting user engagement page after page. Overall, the new site aims to better reflect Soliant's culture of, "making life better for those who make lives better."
To learn more about Soliant, please visit soliant.com.
About Soliant Health
Soliant Health, an Adecco Group company, is a leading provider of specialized healthcare staffing services to hospitals and healthcare providers. By supplying traveling healthcare professionals on both temporary and direct hire assignments, Soliant Health delivers comprehensive healthcare staffing services to leading facilities across the United States. Soliant's teams of professionals are qualified to fill physician, nursing, therapy, pharmacy and other healthcare positions.
For more information, please contact:
Tera Tuten
Vice President of Operations and Marketing
Soliant
904-527-5826
tera.tuten(at)soliant.com
Carmela Nazareno
Marketing Specialist
Soliant
904-360-2553
carmela.nazareno(at)soliant.com