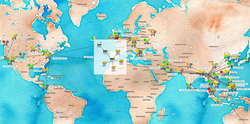 With Tom Sawyer Perspectives, Version 8.0 we continue to build intelligence and automation into graph and data visualization and analysis applications, to lead customers to data-driven insights and outstanding results, such as an 800% increase in productivity. - Brendan Madden, Chief Executive
BERKELEY, Calif. (PRWEB) November 16, 2017
Tom Sawyer Software, the global leader in graph and data visualization and analysis technology, announces the release of Tom Sawyer Perspectives, Version 8.0, Java Edition. This release contains two new graph visualization solutions that address complex challenges for enterprises and government agencies. Version 8.0 delivers web-based, automated business process modeling, execution, and administration (BPM), and model-based engineering (MBE) for desktop and web-based users.
Tom Sawyer Perspectives is an enterprise software development platform for building graph and data visualization and analysis applications. Customers use it to realize immediate value from connections hidden in Big Data and complex systems. This release features a new architecture that further supports enterprise-wide implementations.
New functionality available in Version 8.0, Java Edition includes:
Tom Sawyer Business Process Solution featuring:

Business Process Administration
Business Process Modeling
Business Process Execution
Tom Sawyer Model-Based Engineering Solution featuring:

Web and desktop views of searchable diagrams
Automated integration with Teamwork Cloud and MagicDraw
Eight SysML-compliant diagram types
Enhanced Tom Sawyer Graph and Data Visualization Solution featuring:

New automated layout of swimlane diagrams
New integrated node growth model
Performance improvements
"Customers tell us that they need better applications to see and act on issues and opportunities in increasingly complex systems, networks, and data," says Brendan Madden, Chief Executive, Tom Sawyer Software. "With Tom Sawyer Perspectives Version 8.0, we continue to build intelligence and automation into graph and data visualization and analysis applications, to lead customers to data-driven insights and outstanding results, such as an 800% increase in productivity."
Global organizations such as Accenture, Airbus, Cisco, General Electric, JPL, Lockheed Martin, NASA, Oracle, and Toyota rely on Tom Sawyer Software for mission-critical solutions.
Contact us to request Tom Sawyer Perspectives, Version 8.0, Java Edition.
You can also continue the conversation by following us on Twitter, LinkedIn, and Facebook.