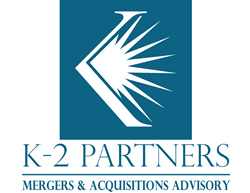 VILLANOVA, PA (PRWEB) November 08, 2017
K-2 Partners, LLC, expert mergers and acquisitions advisory firm to the Document and Information Management (DIM) industry, celebrated the completion of more than 70 transactions and assignments since its founding in 2010.
Recently, K-2 announced that it will be assisting the Records and Information Management (RIM) sector of the moving and storage industry by offering exit strategy development and acquisition brokerage advisory services based on the firm's unmatched experience in the DIM sector.
With current industry trends showing widespread commoditization of storage services, K-2 Partners has identified the declining net growth of organizations such as Iron Mountain (IRM) as an opportunity to expand its advisory services.
According to IRM's Q3 2017 Conference Call, growth from existing customers continues to trend downward, with company data revealing a full percentage point drop since 2015 and a 10-year decrease of 5.5% (2008 6.0% vs 2017 0.5%).
"Still, several buyers are looking for strategic acquisitions, as well as fold-in opportunities to cover growth gaps and increase profit margins through increased efficiencies of scale. We are seeing early signs of a valuation plateau. In part, this is driven by virtually zero net unit growth rates from existing customers in North America. However, we still see values holding up for quality businesses, and where the buyers see opportunity for improvement through new services," said Bob Miller, Managing Partner, K-2 Partners.
In light of this news, K-2 Partners looks forward to a robust 2018 with a continued central focus in the DIM space and the ability to advise RIM accounts.
ABOUT
K-2 Partners, LLC helps both sellers and buyers reach mutually beneficial deal outcomes, where each organization benefits from the transaction. The K-2 Partners team is comprised of experienced business operators, with a complementary skill-set and a wealth of M&A experience. K-2 Partners provides the perfect blend of global focus and local expertise for its clients with 175+ years of combined experience in the DIM space world-wide; buying, selling and leading businesses ranging from startup to the largest in the industry, including Iron Mountain, Recall, Pierce Leahy, Bell & Howell, AUSDOC, DataStore (a Coakley Brothers Company), Stephens Records Management, and Allmove.
CONTACT
Michael (Mike) Holland
Director, K-2 Partners, LLC
732-433-0135
Mholland(at)k-2partners(dot)com
http://www.k-2partners.com