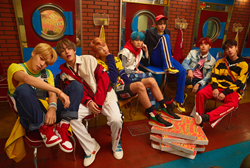 NEW YORK (PRWEB) November 07, 2017
BigHit Entertainment's Global Pop Sensations, BTS, join forces with DJ Steve Aoki and rapper Desiigner for their highly anticipated collaboration. The remix of "Mic Drop" will be released worldwide on November 17th, just 2 days before BTS takes the stage to perform at The 2017 American Music Awards for their first U.S. televised performance.
BigHit Entertainment stated "the remixes surprise release is to repay fans worldwide for their meaningful success and for showing BTS so much love during their most recent comeback for the album LOVE YOURSELF: 'Her.'"
"Mic Drop" was originally released in September on the band's LOVE YOURSELF: 'Her' album, showcasing a trap-infused hiphop side of BTS. The album itself racked up 6 straight weeks on the Billboard 200. On October 25 Dazed noted:
"...Love Yourself: Her is the biggest selling K-Pop album in pre-orders ever (over a million in domestic alone), and with the lead single "DNA", they're now the fastest K-Pop group to hit 10 million, 20 million, then 100 million YouTube views. Then there are those killer chart standings – #14 on the UK album chart, top 10 on the US Billboard 200 album chart – while DNA not only reigned over worldwide iTunes charts but rose to #67 on the Billboard Hot 100, the highest position ever for a Korean group." http://www.dazeddigital.com/music/article/37863/1/bts-k-pop-interview
Named #14 on US Weekly's "Most Influential Celebrities on Social Media" amongst public figures such as Beyonce and Ellen DeGeneres, BTS continue to cement their reputation as global pop stars. Outlets such as Forbes, New York Times, NPR, Entertainment Tonight, The Fader, and The Recording Academy have also taken notice of BTS' ever-growing milestones, which will only continue to escalate throughout the new year.
BTS and BigHit Entertainment spoke to Forbes about The 2017 American Music Awards, which broadcasts LIVE on November 19, 2017 at 8:00 p.m. ET / 5:00 p.m. PT on ABC: "It is such an honor for BTS and BigHit Entertainment to be invited to the American Music Awards as one of the performers," said a rep from the band's label. "Our partners in the U.S. have helped us pave the way in every way possible, and together we are making history. We are also excited to show our fans, ARMY, the first-ever U.S. live TV performance of 'DNA.'"