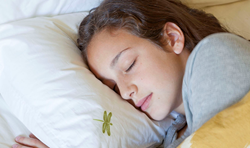 "Being on Shark Tank was an experience of a lifetime. It is a long way from the therapy origins of the Dreampad and it's fun to see how the consumer world is reacting to the product. The sharks are tough investors but they're also savvy consumers, and it was gratifying to see how much they liked it"
San Marcos, CA (PRWEB) November 09, 2017
If you're looking for a better way to catch those precious zzz's during the holidays, check out the Dreampad which aired on ABC's award-winning reality show Shark Tank, Sunday, November 5.
The Dreampad is the ultimate holiday gift that keeps on giving peaceful sleep all year long. It plays soothing music only the user can hear. This soothing music calms the nervous system and help users drift off into dreamland.
While it was originally developed as a therapy tool for children on the Autism spectrum, Dreampad CEO Randall Redfield recognized its potential for helping people of all ages fall asleep faster and enjoy meaningful rest.
Why trust in the Dreampad?
Comfortable – There are no headphones, earbuds, or headbands needed, allowing users to sleep however feels best.
Versatile – The Dreampad can be used by anyone looking to reduce stress, fall asleep, stay asleep longer, or decrease their sensory hypersensitivity.
Trusted – It has been used effectively for over 4 years in hundreds of clinics, including pediatric hospitals of Duke, Stanford, and Harvard.
Proven – It has garnered support from peer-reviewed research.
Guaranteed – Each Dreampad comes with a 30-day money back guarantee.
The Dreampad is available in a variety of sizes to fit every sleep style, including Memory Support, Firm Support, Medium Support, and Slim Support.
To learn more about the Dreampad, visit https://dreampadsleep.com.
About Dreampad
Integrated Listening Systems (iLs) specializes in sound and movement therapies for improving brain function. Their product, the Dreampad, launched in 2012 as a therapeutic tool for children on the Autism spectrum. Since then, research by Columbia University and others has confirmed its effectiveness, and it is now used by people of all ages to help get a better night's sleep.
For media inquiries, Leah(at)chicexecs(dot)com
Leah J. Cybulski
Senior Public Relations Project Manager
ChicExecs Brand Strategy
820 Los Vallecitos Blvd Ste A-C
San Marcos, CA 92069
C 708 426 8730