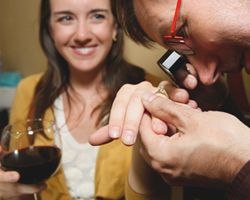 Seattle, Washington (PRWEB) November 08, 2017
Do you love diamonds, chocolates, and brilliant conversation? Then you'll love these "Meet The Cutter" events November 17 and November 18 at Green Lake Jewelry Works in Seattle and Bellevue, Washington. Crafted by Infinity diamonds founder Paul Slegers is coming to the United States to share his expertise as a global authority on diamond cut-quality. Owners of his high-performance diamonds can meet the man responsible for their perfection.
Both "Meet The Cutter" events will also feature Green Lake Jewelry Works' first sale ever, with 10% off all displayed jewelry and gemstones (loose diamonds and custom work not included).
Slegers will be at Green Lake Jewelry Works in Seattle on Friday, November 17, and at their Bellevue location on Saturday, November 18. There will be a public talk and Q&A session both days at 6 p.m., accompanied by local wines and Belgian Chocolates. Private appointments can also be made during the day.
Slegers and his diamond cutting team take every Crafted by Infinity diamond from starting crystal to final polish. At these "Meet The Cutter" events he provides inside industry information and can even give the history of specific diamonds in a fun and social setting. Guests will also have a chance to interact with Crafted by Infinity's United States Director, John Pollard and the president of High Performance Diamonds, Wink Jones, as well as other renowned jewelry experts.
These events are open to the general public and free of charge. However, space is limited, so reservations for diamond appointments and evening talks are encouraged. To RSVP, please email gemstones(at)greenlakejewelry.com. Crafted by Infinity and Green Lake Jewelry Works look forward to celebrating your diamond's past and brilliant future with you at these one-of-a-kind "Meet the Cutter" events.
About: High Performance Diamonds is committed to providing the best products, at the best value, without compromise. Our vision is to surprise and excite our clients with breathtaking beauty, again and again, over a lifetime of enjoyment.