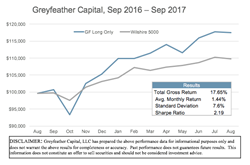 "The success of our equities-based mutual fund strategy in its first year is very exciting," says Greyfeather Capital Portfolio Manager Matt Sandretto, "We spent years developing our AI strategy. Outperformance of benchmarks in actual trading validates those efforts."
CHICAGO, IL (PRWEB) November 08, 2017
Even in the strong bull market of 2016 – 2017, artificial intelligence (AI) is justifying the growing perception that it is the future of investment management.
Greyfeather Capital, a firm at the forefront of deploying AI for the purpose of improving stock selection, has confirmed that its technology enabled outperformance of the S&P 500 by 1.95 points during a trading period lasting from September 2016 – September 2017.
Greyfeather Capital uses an advanced AI architecture called Deep Belief Networks (DBNs) composed of multiple layers of restricted Boltzmann machines. DBNs are capable of modeling highly complex systems and are a significant advancement beyond the hard-coded if/then logic that still predominates quantitative investing. This AI tech can learn how to weight competing input data, both fundamental and technical in nature, and determine which stocks are most likely to outperform in coming months.
"The success of our equities-based mutual fund strategy in its first year is very exciting," says Greyfeather Capital Portfolio Manager Matt Sandretto, "We spent years developing our strategy, training our AI deep belief network with pertinent data, and running out-of-sample back tests. Outperformance of benchmarks in actual trading validates those efforts."
The commercial implications of this success are staggering. In recent years, actively managed strategies have seen mass exodus due to their high fees and underperformance of benchmarks. Greyfeather Capital's recent success, however, suggests that investors should not turn their backs on active management just yet; superior technology is changing the nature of the game entirely - now it is possible to achieve exceptional performance at costs typically associated with passive strategies.