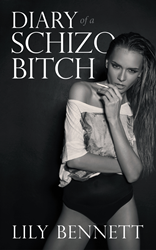 FARMINGTON, Minn. (PRWEB) November 13, 2017
A Minnesota-based writer has released a memoir about her experience coming of age with high-functioning schizophrenia. In "Diary of a Schizo Bitch," author Lily Bennett intermingles humor and emotion as she unravels the highs and lows of discovering her symptoms, learning to manage her diagnosis and, ultimately, recovering from the toll the mental disorder took on her socially, mentally and physically.
Opening on the day her house caught fire when she was 15 years old, "Diary of a Schizo Bitch" chronicles the subsequent auditory hallucinations and delusions Bennett experienced in the aftermath of the event. Early on, Bennett found the voices in her head comforting and friendly, many of which were those of celebrities like Miley Cyrus and Justin Bieber. But after learning her fantasies were the result of schizophrenia, Bennett suffered a nervous breakdown and was met with an uphill battle against severe depression, suicidal thoughts and an eating disorder.
"This story shows my ups, my downs and all the random things in between," Bennett said. "Writing 'Diary of a Schizo Bitch' has given me the chance to show others that people who have schizophrenia are not psychos, they're people, and that mental illness does not diminish a person's value or ability to succeed. If my words can help even one person, that would be worth it."
"This book brings you into some of the author's most personal thoughts, anxieties and struggles, and for that it is deeply human, relatable and refreshing," a reader wrote in a five-star Amazon review of the book.
"Diary of a Schizo Bitch" grabs readers by the collar and thrusts them into the reality many mental illness sufferers face in their day-to-day lives. Through clipped, raw and often humorously unfiltered passages, Bennett lays bare the truth of what it is like to have schizophrenia and challenges society's deep-rooted stigma toward mental illness.
"Diary of a Schizo Bitch"
By Lily Bennett
ISBN: 978-1-5320-2123-7 (paperback); 978-1-5320-2124-4 (electronic)
Available at the iUniverse Online Bookstore, Barnes & Noble and Amazon
About the author
Lily Bennett is 22 years old, has high-functioning schizophrenia and aspires to become a therapist so that she can help others like herself. Bennett works in the mental health field and is pursuing a master's degree in psychology concentrated in marriage and family therapy. She currently resides in Farmington, Minn.
###
Review Copies & Interview Requests:
LAVIDGE – Phoenix
480-648-7557
dgrobmeier@lavidge.com
General Inquiries:
LAVIDGE – Phoenix
480-998-2600 x 584
mdriver@lavidge.com