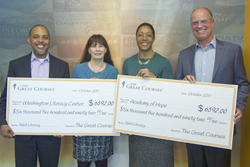 I cannot tell you how delighted we are to be able to make a positive impact on adult education in our local community...
Chantilly, Virginia (PRWEB) November 13, 2017
Last week, The Great Courses—a Northern-Virginia-based educational company delivered more than $13,000 to help fund two local adult-literacy programs in Washington D.C. Raised as part of the company's education-focused philanthropy and corporate outreach program, the funds will go to Academy of Hope and the Washington Literacy Center to help D.C.-area adults improve their literacy skills.
"I cannot tell you how delighted we are to be able to make a positive impact on adult education in our local community." said The Great Courses President and CEO Paul Suijk. "We've long benefited tremendously, as an organization, from being located in the Washington D.C. area and having ready access to the best-educated workforce in the country. Giving back to the community by helping improving the education levels of the city is simply our responsibility."
Academy of Hope Adult Public Charter School and Washington Literacy Center are the D.C. area's leading adult literacy organizations, with more than 85 years combined experience in helping prepare adult students for better work and educational opportunities by teaching fundamental literacy skills. "90 percent of our students arrive at or below a sixth-grade level in reading, math and computer literacy," said CEO of Academy of Hope, Lecester Johnson, "so the challenges we face are enormous. More than 60 percent of our graduates go onto college or further education, which just goes to show the immense power of education to transform people's lives. Responding to the increasing demand for services, AoH purchased a new facility last year. This generous donation from The Great Courses will go a long way in helping us reach even more people with a desire to learn."
Washington Literacy has operated as nonprofit helping families in the D.C. since 1965. We have evolved to focus on whole student with a literacy based approach in reading, math and workforce/occupational skills. "We provide a pathway for students who need to strengthen basic reading and numeracy skills necessary to qualify for many of the other programs. Our students face daily obstacles in meeting their needs and the needs of their families. Literacy is the only path out of poverty. It will create new opportunities for them to pursue educational and job opportunities that enhance their quality of life." Said Jimmie Williams, the Executive Director of Washington Literacy Center. "Since our organization relies on grants, donations, and our amazing volunteers, we're always grateful for support from the business community. The Great Courses contribution is going to help us provide digital literacy and workforce training that enhance the literacy and workforce skills of our students."
Kevin Manzel, Director of Content for The Great Courses and the head of the company's philanthropic efforts, notes that the effort was "a home run all around. Our employees were excited to launch a sales campaign that benefited such a worthy cause as adult literacy, and we received wonderful feedback from our customers about the effort, as well. We couldn't be happier to contribute to the great work that Academy of Hope and Washington Literacy Center are doing."
About The Great Courses
The Great Courses is the nation's leading developer and marketer of premium quality media for lifelong learning and personal enrichment. Delivered in engaging, expertly produced video and audio, these carefully crafted courses provide access to a world of knowledge from the most accomplished professors and experts. The content–rich, proprietary library spans more than 600 series with more than 14,000 lectures designed to expand horizons, deepen understanding, and foster epiphanies in the arts, science, literature, self–improvement, history, music, philosophy, theology, economics, mathematics, business, professional advancement and personal development. Creating unique learning experiences since 1990, The Great Courses and The Great Courses Plus are the premier brands of The Teaching Company Sales, LLC of Chantilly, Virginia, which is owned by Los Angeles-based Brentwood Associates. More information can be found at https://www.thegreatcourses.com.