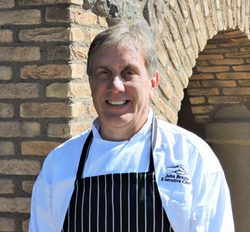 Foodies and culinary aficionados are delighted with Executive Chef, John Brazie's, leadership at The Club and Steakhouse at Flying Horse.
Colorado Springs, CO (PRWEB) November 09, 2017
Flying Horse Country Club and Steakhouse Name New Executive Chef.
Flying Horse recently named John Brazie Executive Chef for The Club and The Steakhouse at Flying Horse, including The Club's private dining, corporate events, and weddings. Brazie will also lead the culinary efforts at The Steakhouse at Flying Horse, which is open to members and the public.
"John is an exceptionally talented and acclaimed Executive Chef from the Houston area. He thrives on providing an outstanding guest experience across all food and beverage offerings." said General Manager, Wendy McHenry.
Having spent the last two decades as Executive Chef for the renowned Woodlands Resort, John has world-class exposure with the opening and operating of private clubs, branded hotels and hosting marquis international events. This encompassing experience has created an expansive repertoire and unique talent. His signature of quality is most proudly experienced in Robard's Steakhouse, TripAdvisors #1 rated restaurant for that region.
He graduated from the Culinary Institute of America in Hyde Park, NY and has continued his formal education with the Culinary Institute, being twice invited to attend the World Conference on Flavor at the Greystone campus and most recently was selected as one of only sixteen chefs nationwide to take part in a year-long culinary enrichment and innovation program, (CEIP). A crowning achievement this year was Chef John earning the title of Certified Executive Chef (CEC) from The American Culinary Federation. His tenure was filled with acknowledgments and awards, being named a Hyatt manager of the year, winning The Woodlands grand tasting Chef of Chefs competition and being named as a recognized Texas Chef three times by Saveur magazine.
Brazie's inspiration for cooking was his father, Richard, who he spent countless hours with in their New England kitchen. John's understanding of the nobility and importance of a chef can be attributed to the combination of a life of experience and a French mentor, who had a huge impact on him. His personal creed is to be relevant, to contribute to the evolution of cuisine and to develop the chefs who are next in line. His philosophy is that "great food is recognizable and appropriate to its environment. A dining experience should be authentic and truthful, while allowing nature and skills to play the starring role".
To learn more about The Club visit http://www.flyinghorseclub.com. Information and reservations for The Steakhouse can be made by calling 719-487-2635 or visiting http://www.flyinghorsesteakhouse.com