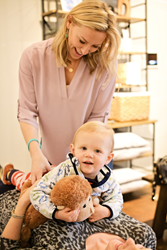 Give you and your family's immune system some added strength this fall and you will be able to better handle and avoid the flu and colds.
DALLAS (PRWEB) November 08, 2017
As one of the highest-rated chiropractors in Dallas, Serving Life Chiropractic loves being a resource for overall health and wellbeing. Without fail, every fall, we get the same questions about keeping families healthy during the "cold and flu" season. We wanted to share our four basic, but very important IMMUNE HACKS to adopt in you and your family's life to keep those nasty germs at bay.
Dr. Denisa Weber, Dallas Chiropractor, says, "Empowering you and your family's health has amazing benefits. Give you and your family's immune system some added strength this fall and you will be able to better handle and avoid the flu and colds. These key strategies are the best way to equip your immune system this season!" Now, the key is to do ALL four consistently. They sound easy, but physiological change requires time and repetition, so start implementing these today.

REST: The hard truth is your immune system cannot function properly without rest/sleep. So start making rest a priority. If you have children, make sure the kids have set bedtimes and stick to them.
HYDRATE: Not just with "fluids", but with good ol' H20! Yep! This isn't ground-breaking information, folks. Your body is comprised of 80% water, so it's a no-brainer that you need it to function and more of it to function optimally.
HIGH GRADE FUEL: Since half of the immune system is located in the gut, it is pretty important to choose what you give it. You want to focus more on the nourishment that comes from food versus just noshing. The best way to do this is to meal plan.
GET CHECKED: You get your teeth checked and eyes checked so why wouldn't you get the system that runs all other systems in the body checked?! That's right… your Nervous System. Chiropractors are trained to evaluate, check and care for your neuro-spinal system. We have state-of-the-art technology in our Dallas chiropractic office that shows where nervous system interference is located and why your body may be experiencing: fatigue, sleep issues, repetitive ear infections, headaches, sinus issues, allergies, asthma, ADD/ADHD, etc. Schedule your visit with a chiropractor in Dallas near you today! You and your family are worth it!
About Serving Life Chiropractic: As Dallas Fort Worth's leading prenatal and pediatric wellness experts, we welcome you and your family to enjoy a beautiful and natural way to achieve optimal health and well-being. We serve all ages and walks of life…from newborns to their grandparents. Whether you are trying to conceive, expecting a baby, experiencing uncomfortable symptoms, already leading a healthy lifestyle, or simply want more for your life, Serving Life Chiropractic, your Dallas chiropractor, is here for you!
###