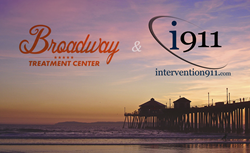 Our multidimensional approach to addiction includes a repertoire that is constantly evolving.
HUNTINGTON BEACH, Calif. (PRWEB) November 14, 2017
Intervention911, based in Palm Springs, CA, has long established itself as the one of the most sought-after intervention services in the country. Their meticulously orchestrated interventions provide the conduit for individuals struggling, to break free from the cycle of addiction. Intervention911 was founded by celebrated interventionist Ken Seeley. Ken is an internationally acclaimed interventionist who has worked full-time in the business of recovery since 1989, and is a regular contributor to CNN, MSNBC, NBC, CBS, FOX and ABC, on the topics of addiction and intervention.
"Not only were we the first in the country to receive the coveted stamp of approval from the Joint Commission for our intervention and Recovery Advocate Programs, we worked directly with the Joint Commission to help develop the standards that will be used for others to follow in our footsteps. Before this, receiving an accreditation for our service was not possible. It's this kind of pioneering attitude that drives Intervention911 to continue to push forward and innovate." Stated Intervention911's CEO Eric McLaughlin.
Broadway Treatment Center, headquartered in Orange County, CA, is an award-winning addiction treatment center founded in 2012 by CEO Tony Orth, and COO Shaun Lennert. Broadway is located in Huntington Beach, California, but enrolls participants into its program from all corners of the country. Broadway has become one of the premier addiction treatment programs on the West Coast, and is currently in the process of integrating the Intervention and Recovery Advocate Programs into their curriculum.
"Our multidimensional approach to addiction includes a repertoire that is constantly evolving," Stated COO Shaun Lennert. "While some of the time-tested methodologies are still effective, in the fast-paced world of today, if you're not constantly reimagining your program, you're probably not relevant." "Innovation is one of the things that attracted us to Intervention911, and we look forward to working with them to provide those in need with evidence-based, ethical, and effective care, as we take a stand on the front lines of the current opioid epidemic."
An intervention is an appeal to an addict to seek treatment for their addiction. The individual's family and friends characteristically initiate the intervention process; however, an addict is usually unaware of how much control the substance or behavior has over them, and is usually very defensive when confronted. Because of this, it is highly recommended that an intervention specialist play a significant role in the process to ensure maximum effectiveness. A proper intervention is the first step to getting an addicted individual the help they need, and get them on the road to recovery. After comprehensive planning, the individual is confronted in a strategic, yet non-aggressive manner. They are presented with evidence of the physical and emotional destruction their addiction has caused themselves, as well as those whom they love and prompted to enter into a treatment program.
The Recovery Advocate Program provides an "assistant" for those fresh out of treatment. It's a vulnerable and confusing time for someone who's newly sober, to traverse the outside world after completing a treatment program. It's no small task reintegrating back into society as a productive individual, and the people, places and activities that one surrounds themselves with after treatment can have quite an impact on their probability of success. The Recovery Advocate Program will pair newly recovered individuals with an experienced and caring recovery advocate that will maintain an open line of communication for an extended amount of time, acting as mentor, and make sure their current trajectory towards long-term sobriety is maintained. Family members are also encouraged to participate as this also increases the likelihood of long term recovery. Broadway Treatment Center and Intervention911 will work closely to improve the chances of positive outcomes for their program's participants.