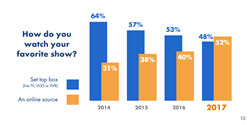 More than half of TV viewers say their favorite show comes from an online source of TV.
BOSTON (PRWEB) November 08, 2017
Hub's annual "Conquering Content" study tracks how TV consumers discover, choose, and watch content. For the first time since tracking began in 2014, viewers are now more likely to say they watch a recently discovered favorite show from an online source than through their pay TV set-top box.
In fact, the once commanding lead for the pay TV set-top box has been steadily declining over the past several years.

In 2014, 64% said they watched their favorite show through a set-top box (either live, on a DVR, or through their MVPD's Video on Demand platform). Only 31% said they watched their favorite show online (via an SVOD like Netflix, Hulu or Amazon, through a network or MVPD site/app, or through other online sources like iTunes).
Over three years, online sources have not just caught up to the set-top box, but have surpassed it. 52% of viewers now say they watch their favorite show online, while 48% watch through the MVPD set-top.
Drilling down on two of the most commonly viewed platforms, there's been a similar trend:

2014: Three years ago, 45% said their favorite show is a show they watch "live" (that is, on the day and time it airs for the first time), vs. 14% saying their favorite show is on Netflix—a 31-percentage point advantage.
2017: Today, the proportion who say they watch their favorite show live has dropped to 31%, while the proportion whose favorite show is on Netflix has jumped to 29%—a difference of just 2 percentage points.
"These findings suggest that the aggressive investment SVODs are making in original and exclusive content is paying big dividends," said Peter Fondulas, co-author of the study and principal at Hub. "In this research and other recent studies, we see clear evidence that high-profile online exclusives generate buzz that draws consumers to these platforms, which not only helps attract brand new subscribers, but also builds loyalty among current customers."
"This finding is a great example of how SVODs have been able to transform themselves from technology companies that distribute content, into entertainment companies that create it", said Jon Giegengack, co-author of the study. "The amount of content being created today is greater than the disposable time available to watch it. In the future, share of total TV time may turn out to be a more important way to evaluate platforms than looking at the number of subscribers."
About this Research 
"Conquering Content" was conducted among 2,214 US consumers with broadband and who watch at least 5 hours of TV per week. The data was collected in October 2017. An infographic and excerpt of the report are available as a free download from Hub Entertainment Research.
About Hub Entertainment Research
Hub Entertainment Research measures and interprets the influence of technology on the ways consumers discover and consume entertainment in today's rapidly changing media environment. We are experts in our field and work with industry leaders to assess the present and forecast the future. Learn more at Hub.