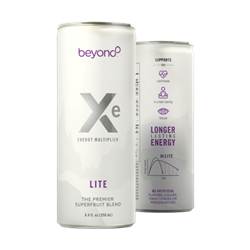 Xe Lite is a natural anti-oxidant rich, energy creating beverage that tastes great and is great for you,
SALT LAKE CITY (PRWEB) November 07, 2017
A natural energy-creating beverage free of added sugar, artificial colors, flavors, sweeteners, and preservatives is finally coming to market. Well-Beyond, a new direct sales company that develops targeted health and wellness and weight management solutions, has announced November 8, as the official launch date for Xe Lite!
Xe Lite is a healthy alternative to traditional energy drinks. In a review of over 30 energy drinks currently available, including the top-selling beverages, 97% contained one or several of the above additives. In addition to containing none of these unhealthy ingredients, Xe Lite provides longer lasting, natural energy from 28% juice, a unique energy-creating botanical blend, and Palatinose™, a natural low-glycemic sugar, derived from sugar beet, that has been scientifically shown to provide longer lasting energy.
Vital to the Xe Lite formula is the superfruit acai, which Well-Beyond Co-Founder and Chief Products Officer Jeff Graham helped introduce to the U.S. and global markets over a decade ago. Graham's expertise in producing and marketing this life-enhancing ingredient helped improve the lives of hundreds of thousands of people world-wide and contributed to more than $3 billion in cumulative sales as part of the fastest-growing direct sales company in the history of the industry.
"Innovation drives everything we do," said Graham. "When we developed Xe Lite, we wanted to deliver a natural energy-creating beverage that consumers could (and would) choose based on taste and its superior health benefits. We believe we've done that, and we can't wait for customers to get their hands on this."
With its proprietary blend of antioxidant-rich superfruits and energizing botanicals, Xe Lite is a delicious companion to Well-Beyond's Xe Energy for fitness-conscious consumers seeking a lower-calorie option. Both drinks deliver a unique balance of nutrients formulated to provide quick and lasting energy that enhances performance, boosts endurance, increases alertness, and reduces fatigue.
"We are thrilled to be launching Xe Lite," said Co-Founder and CEO Jeremy Reynolds. "Xe is our top selling Well-Beyond product, and we fully anticipate Xe Lite to drive incremental revenue. Xe Lite tastes amazing, and even better—it's good for you!"
Registration for Well-Beyond's official launch event in Las Vegas, January 18–20, 2018, is now open. Tickets can be purchased here. The event will bring together healthy-minded individuals looking to share transformational experiences as Well-Beyond unveils its new brand and line of products, including Xe Lite.
About Well-Beyond
Well-Beyond develops targeted health & wellness and weight management solutions to change lives. Along with the world's only healthy chocolate®, we deliver nutritious products for better sleep, enhanced focus, and endless energy. At Well-Beyond, we believe health and happiness go hand in hand. We exist to elevate the world from mediocrity to greatness by holding ourselves and others to our highest potential. This inspires us to go well beyond every day.
Contact
Well-Beyond
Jeff Graham
Chief Products Officer
775-971-9903
jg(at)well-beyond(dot)com