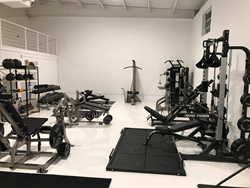 We believe in whole body wellness...Our on-site doctor will help clients achieve that.
TAMPA, Fla. (PRWEB) November 09, 2017
Tampa Bay wellness seekers can now find care under one roof. That's the all-inclusive niche of Driven + Sponaugle Wellness Studio (SWS), a hybrid wellness practice that opened its doors Saturday, November 4 at the corner of Swann and Armenia in Hyde Park. Driven + SWS offers Tampa personal training, acupuncture and massage as well as chiropractic services by Dr. Sarah Sponaugle.
"We believe in whole body wellness," says Driven + SWS co-owner Luis Echeverry. "Our on-site doctor will help clients achieve that."
Dr. Sponaugle calls the Driven + SWS collaboration 'a perfect fit.' Exercise, she says, is a key element in healing for many of her patients. For a doctor to simply walk across the hall to discuss a patient's progress with their personal trainer or massage therapist is invaluable.
"As a chiropractor, I believe that the body can heal itself if given the tools," Sponaugle says. "Here, we offer those tools in a single location."
Sponaugle's inclusion also coincides with the introduction of Styku, an infrared body screen that eliminates the need for skin calipers and other body composition measurement tools. Driven + SWS is the first Bay Area location to feature Styku, which provides extremely accurate data for body fat and muscle density.
"With Styku, we're able to set a baseline and uniquely goal set for each client," Echeverry says. "Results are easy to visualize."
To be scanned, a client stands on a turntable for about 30 seconds as the infrared body screen creates a 3-D image. The result is more than a revelation of current body fat percentages and body shape – posture is measured as well. That's where Sponaugle comes into play.
The scan is used for the development of whole treatment plans and as a stand-alone diagnostic tool. Even small changes are visible thanks to Styku, so personal training regimens and accompanying treatment protocols can be continually monitored.
The Driven + SWS focus is on stability, mobility and rejuvenation of the body at a central private South Tampa studio. With this balanced approach, personal trainers and practitioners strive to improve their clients' overall quality of life. For more information about Driven + SWS or Styku or to schedule an introductory personal training or wellness consultation, visit http://www.drivenfit.com.