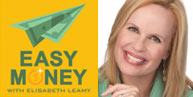 "1 out of every 10 of us has unclaimed money out there."
WASHINGTON (PRWEB) November 20, 2017
It takes just two websites and ten minutes to find out if there is unclaimed money waiting for you. The 50 states plus the District of Columbia are holding at least $42 billion worth of this missing money for their citizens. Roughly 1 out of every 10 Americans has unclaimed money out there. The money comes from things like tax refunds that were mis-routed, stock dividends people never cashed, utility deposits that weren't returned, and life insurance policies set up by deceased relatives. The average claim is $892, according to the National Association of Unclaimed Property Administrators.
Spencer Hathaway of Washington, DC found accounts in three different jurisdictions: un-cashed health insurance refunds in the District of Columbia and life insurance dividends in both California and Iowa. Hathaway learned how to search for unclaimed money from Elisabeth Leamy, host of the Easy Money Podcast, which covers one unclaimed money topic each week plus offers an accompanying blog. "Part of the fun of this is that you go back and revisit parts of your life that you don't think about," said Hathaway. "I feel like this money's just rolling in like manna from heaven or something." Hathaway was able to recover more than $1,800 in all.
So how does one search? It's simple —and free. First go to MissingMoney.com, fill in first and last name, and then enter the state of residence. The site will automatically check with all 40 of its state partners. So a single search covers the majority of states.
There are ten states that don't participate with MissingMoney: Arkansas, California, Connecticut, Delaware, Georgia, Hawaii, Illinois, Oregon, South Carolina and Wyoming. For those who have lived, worked, or done business with a company in any of those states, it's important to search them individually. To do that, head to another free website, Unclaimed.org. (Important note: the free website ends in ".org." —not .com.) Click on any state to access its own unclaimed property page.
For those who find unclaimed money accounts in their name, claiming them is fairly easy. The state may ask for proof of a business relationship with the bank in question or proof of having lived at an address. One easy way to gather that proof is to pull a free credit report at AnnualCreditReport.com. Credit reports typically list old accounts and addresses. Some states also require application forms to be notarized. "I was pleasantly surprised," said Hathaway. "It wasn't difficult. Just had to do a little bit of paperwork and copy some documents."
13-time Emmy-winner Elisabeth Leamy started covering unclaimed money when she was the consumer correspondent at Good Morning America. "After my first unclaimed money story, our viewers nearly crashed the ABC News server," said Leamy. "That's when I knew we had hit on a hot topic that people didn't know much about." Leamy has helped reunite people with nearly $2 million worth of unclaimed money, first at GMA and now on the Easy Money Podcast.
A third of every Easy Money podcast episode is devoted to unclaimed money —and so far there's no shortage of topics. On her podcast and blog Leamy talks about how to find unclaimed money held by the feds —like lost savings bonds, pensions and tax refunds. She tells listeners why it's urgent to claim the contents of forgotten safe deposit boxes as soon as possible. She looks for unclaimed money for small businesses, churches, charities and schools. And she talks about how to tap into unclaimed money held by courts, such as unpaid child support. There are even advanced strategies for finding missing money if the two free websites above don't yield anything. "This is your money, not the state's money," said Leamy. "People need to claim what's rightfully theirs."
ABOUT THE EASY MONEY PODCAST AND HOST ELISABETH LEAMY
Every week on Easy Money, 13-Time Emmy-winner Elisabeth Leamy (Washington Post, Good Morning America, Dr. Oz) uncovers clever, creative ways to make more money, save more money and find unclaimed money. Her goal is to make understanding money easy —not hard. By utilizing this story idea, outlets will be getting quality FREE content, while helping an ad-free, educational podcast. Download all story materials at: EasyMoneyShow.com/press-kit.
EASY MONEY PODCAST LINKS: (Please include these links on website in exchange for use)
Easy Money Podcast on iTunes: http://apple.co/2tpUY6v
Easy Money Podcast Website: EasyMoneyShow.com