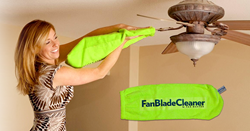 PITTSBURGH, PA (PRWEB) November 08, 2017
PITTSBURGH… InventHelp® introduces "FanBladeCleaner", a highly effective microfiber sleeve that removes dirt and grime from the surface of ceiling fan blades. Slip it on. Slide it off. No mess!
Ceiling fans collect dust, dirt and grime on the blades because of the constant rotation and wind it produces. It's the very nature of the fan itself. Cleaning the blades can be a task as liquid solutions can smear or damage the blades and the components, and regular dusters and mops push the dust to the floor below. FanBladeCleaner features a unique sleeve design that allows the user to slip the sleeve on to the blade and slide it off, allowing the microfiber material to collect all of the dust inside the sleeve, preventing anything from falling to the surface below.
FanBladeCleaner has been used in cleaning dirty fan blades in all 50 states and Canada. The unique design features dual-sided plush microfiber and measures 9 inches x 25 inches. Machine washable and dryer safe, the FanBladeCleaner is the most effective way to get dirty ceiling fan blades clean. Suggested retail price: $15.95, plus shipping and handling. It is currently on sale for $12.95. Available at https://inventhelpstore.com/collections/sale/products/fan-blade-cleaner.
InventHelp® is seeking marketers and distributors in the housewares, and direct response industries. FanBladeCleaner is available on http://www.inventhelpstore.com, a website of innovative new products by InventHelp's licensing and product marketing partner Intromark Incorporated. For more information, or for ordering, contact us at 217 Ninth Street, Pittsburgh, PA 15222; call (800) 851-6030 or (412)288-1368; fax (412) 338-0497.
Manufacturers interested in reviewing additional inventions and new product ideas can contact Intromark by filling out an online request to review new product ideas at http://www.intromark.com.