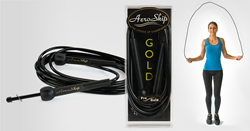 PITTSBURGH, PA (PRWEB) November 10, 2017
Aeroskip® Sports, LTD, a U.K. Company, has successfully developed a new aerobic exercise routine that combines two traditional forms of exercise: aerobics and skipping rope. Aeroskip® has been performed in aerobic class format in the U.K. for the past several years.
The exercise routine combines traditional aerobic moves performed inside the specially designed speedrope. The program allows you to control your working heart rate with a unique combination of high and low compact moves. This workout may improve your fitness, coordination, and decrease cholesterol levels. Aeroskip® appeals to men and women of all ages.
To get started, all you need is the lightweight and fast Aeroskip® Professional Gold Speedrope and an Aeroskip® fitness video. The first video features Mr. Motivator, the leading U.K. fitness motivator. The second video, featuring the Spicey Girls (Spice Girl lookalikes), was released worldwide to music, video and sporting goods stores in 1998.
Aeroskip® workout videos, cassettes, speedropes, and speedwear are now available from Intromark Inc., a new-product licensing and marketing firm. Purchase speedropes online at https://inventhelpstore.com/collections/sporting-goods/products/aeroskip for $16.25. For more information, contact Intromark Incorporated, 217 Ninth Street, Pittsburgh, PA 15222-3506, call (800) 851-6030 or (412) 969-6170 or fax (412) 338-0497. And visit us at our online store at https://inventhelpstore.com.