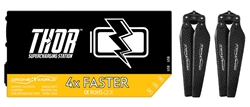 (PRWEB) November 10, 2017
The DJI Mavic Pro is one of the most beloved drones on the market today, combining unmatched portability with a 4K camera and over 25 minutes of flight time. Fortunately for pilots everywhere, Drone World took this unmistakably brilliant aircraft and made it even better with the coveted DJI Mavic Pro MaXX Mod Kit. Even more recently they added some phenomenal new accessories: notably the carbon fiber propellers for better agility and the Thor supercharger, which is capable of charging four batteries and a remote simultaneously, 4x faster than a stock charger. The two additions to the kit are also available with other DJI Mavic Pro accessories here, for those Mavic Pro owners simply looking to upgrade the drone they currently have.
See the video and learn more about the DJI Mavic Pro Thor supercharger (here) and DJI Mavic Pro carbon fiber propellers (here).
"You cannot find a faster Mavic charger. It's lighter, stronger and most importantly, it's the safest charger on the market," said President and Founder of Drone World Stephen McKenna. "The MachFlex technology in our new carbon propellers are the result of two years of engineering. They are both stiff and flexible, yielding the perfect stiffness to clock faster drone speeds while maintaining video quality smoothness. Plus our heavy duty hubs are twice as strong as other aftermarket hubs. Scary as it may sound but we saw a 50% failure rate in carbon fiber propeller sets sold on eBay and Amazon. If it were me, I kinda like my drone not falling out of the sky, ever."
Approximately one year after the debut of the Mavic Pro, DJI unveiled the DJI Mavic Pro Platinum, a silver toned upgraded aircraft with reduced noise pollution (60% quieter when flying) and more efficient propellers (3+ minutes of flight time, bringing the total flight time to 30 minutes). It will be available soon from Drone World.
Important to note is that the Thor supercharger has been custom-designed by Drone World for the DJI Mavic Pro. With 15.7 amps of power and the aforementioned multi-charging capability, this is without a doubt the premiere charger on the market today.
The brand new carbon fiber propellers for the Mavic Pro do more than add a sleek, textured look to the drone; they can also add as much as 3-5 mph of speed! It's an improvement that is slight, but welcomed by drone fans everywhere. The key to the upgrade is the new MachFlex Technology which adds a slight flexibility to the normally stiff carbon propeller to eliminate video camera jitters and propellers that are balanced to plus or minus 3 milligrams for long lasting performance. Lastly, the hubs are tested to be 2x more reliable than competing propeller hubs. "When pulling over to the side of the sky is not an option, you'll want our props," said Mr. McKenna.
About Drone World:
Drone-World.com is the Web's preferred destination for consumer and professional unmanned aerial drones, drone kits, and drone accessories. Drone-World.com combines superior customer service and know-how with over 5 years of drone experience and 10 years of web sales and service. They specialize in custom DJI Phantom & Mavic bundle kits, including the highly popular DJI Phantom 4 Pro/+ Executive & Falcon Edition kits featured in RotorDrone Magazine as well as commercial use Inspire 2 kits, Osmo kits and the newly released DJI Phantom 4 Pro kit and the DJI Phantom 4 Pro+ (Plus) bundle. Use coupon code ACC15 for 15% off Drone World brand accessories.
For more information contact:
(888) 901-3108
sales(at)drone-world.com