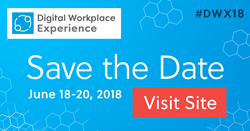 "[We] are constantly inspired by the quiet innovation happening inside organizations" - Brice Dunwoodie, CEO & Founder, SMG/CMSWire
San Francisco, CA (PRWEB) November 08, 2017
Simpler Media Group, Inc., publisher of the popular CMSWire.com website, and strategic partner and boutique consultancy, Digital Workplace Group (DWG) announce dates and details regarding the Digital Workplace Experience 2018 conference (#DWX18). Taking place from June 18-20, 2018 in Chicago at the Radisson Blu Aqua Hotel, this three-day event aims to bring together the most influential practitioners and technology innovators in the evolving digital world of work, with a strategic global audience.
The 2018 speaker line-up features digital influencer and futurist, Dion Hinchcliffe and organizations including H&R Block and the Scottish Government.
DWX will again feature live tours and real-time demos of digital workplaces. 2017 speakers included organizations such as Adobe, Verizon, EY, Estee Lauder, General Electric and the World Bank.
Informed by DWG's 15 years of research, insight and benchmarking; and CMSWire's deep expertise and diverse community of thought-leaders, event content includes 5 main tracks with associated sub topics that focus on key digital workplace areas such as employee experience, intelligent workplace, culture, leadership, change management and digital workplace roadmaps.
"Building on the successful inaugural conference in June 2017, DWX 2018 will showcase content-led, rich experiences from the world's best digital workplaces. The range of talks, insights and stories from our guest speakers will make for rewarding and inspiring few days." said Paul Miller, CEO and Founder of Digital Workplace Group.
The content for DWX 2018 will also be informed by a newly assembled advisory committee. Members of the committee include speakers Karen Brown, from H&R Block and Dion Hinchcliffe, who are joined by Jason Blackwell, Human Factor Engineer and Usability Specialist at IBM, and Dianna Langley, Digital Workplace Manager at Oxfam.
"The SMG/CMSWire team have been covering the digital workplace sector for more than a decade and we are constantly inspired by the quiet innovation happening inside organizations, the good will of the teams involved and the way top notch digital workplace operations translate into superior customer experiences on the other side of the firewall," said Brice Dunwoodie, Founder and President of Simpler Media Group, Inc. "We're looking forward to an informative and experience-rich 3 days this coming June."
Pre-registration for the Digital Workplace Experience 2018 conference is available now and full registration will open soon. Visit this page to pre-register today and receive additional information.