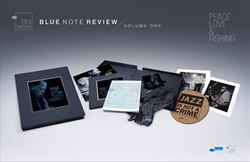 For so many of us, Blue Note has always represented a particular sensibility and a culture of cool. Blue Note Review is our great effort to restore some of that culture, and to re-create that tangible, multi-sensory experience. - Blue Note president Don Was
Los Angeles, CA (PRWEB) November 08, 2017
Blue Note Records introduces Blue Note Review: Volume One - Peace, Love & Fishing, the inaugural edition of a stunning new biannual, limited edition, luxury boxset subscription series that encapsulates the storied past and auspicious future of the legendary jazz label. The beautifully curated collector's item is a limited production of 1,500 sets, and is available to order today for $200 exclusively at bluenotereview.com. Watch an unboxing video of the Blue Note Review here.
The foundation of each Blue Note Review is and will remain the music: The Finest In Jazz Since 1939. Each set will contain a collection of new recordings from Blue Note's current roster plus a timeless treasure from the Blue Note vaults, representing the unique continuum of jazz, a music where innovation is always built upon what's come before, yet a restlessly creative artform with improvisation and reinvention at its core. And so, bucking the digital trend in music, the Blue Note Review aims to provide the ultimate jazz experience, a physical extension of the enduringly hip Blue Note aesthetic to adorn the ears, eyes, mind, and neck. The new music within will only be available in the Review, it won't be found on streaming services or digital download sites, and none of the items contained in the set will be sold separately.
"The digital transformation of the music business has made great strides in terms of convenience, but we've lost so much along the way," explains Blue Note President Don Was, who conceived of the Blue Note Review and serves as its Publisher. "For so many of us, Blue Note has always represented a particular sensibility and a culture of cool. Blue Note Review is our great effort to restore some of that culture, and to re-create that tangible, multi-sensory experience. This has been a labor of love for everyone involved, and we couldn't be more proud to introduce the Blue Note Review to jazz lovers worldwide."
Included in Blue Note Review: Volume One - Peace, Love & Fishing are:

A 2-LP, 180g vinyl double album (2-CD set also included) of new & previously unreleased recordings by current Blue Note artists including Wayne Shorter Quartet, Charles Lloyd & The Marvels, Dr. Lonnie Smith, Gregory Porter, Kandace Springs, Terence Blanchard, Derrick Hodge, and Blue Note All-Stars featuring Ambrose Akinmusire, Robert Glasper, Derrick Hodge, Lionel Loueke, Kendrick Scott, and Marcus Strickland.
A 180g vinyl reissue of the previously out-of-print rare classic catalog album Step Lightly by trumpeter Blue Mitchell, recorded in 1963 with Joe Henderson, Leo Wright, Herbie Hancock, Gene Taylor, and Roy Brooks, and featuring liner notes by Michael Cuscuna.
Two never-before-released Francis Wolff 12x12 lithographs of Wayne Shorter and Stanley Turrentine.
An exclusive John Varvatos-designed Blue Note scarf.
A "Jazz Is Not A Crime" turntable mat conceived by Ryan Adams.
A lifestyle zine featuring a fascinating collection of articles and musings including: a foreword by spiritual teacher and author Ram Dass, a poem by Jack Grapes, a conversation between Wayne Shorter and actor/comedian/jazz fanatic Jeff Garlin, an eloquent elegy for the late drummer Billy Higgins written by Charles Lloyd, and a true-to-life comic drawn by Keith Henry Brown about an encounter between Stanley Turrentine and Blue Note founder Alfred Lion as told in the words of Bobby Hutcherson.
Blue Note Review: Volume One – Peace, Love & Fishing
Side A
1. Lady Gabor (Live from Royce Hall) – Charles Lloyd & The Marvels
Charles Lloyd (flute), Bill Frisell (guitar), Greg Leisz (pedal steel guitar), Reuben Rogers (bass), Eric Harland (drums)
2. Footprints – Dr. Lonnie Smith
Dr. Lonnie Smith (Hammond B-3 organ), Jonathan Kreisberg (guitar), Johnathan Blake (drums), Joe Dyson (drums)
Side B
3. Take Me To The Alley (Live From Blue Note Jazz at Sea) – Gregory Porter & Blue Note All-Stars
Gregory Porter (vocals), Keyon Harrold (trumpet), Lionel Loueke (guitar), Robert Glasper (piano), Derrick Hodge (bass), Kendrick Scott (drums)
4. Turnaround – Blue Note All-Stars
Ambrose Akinmusire (trumpet), Marcus Strickland (tenor saxophone), Lionel Loueke (guitar), Robert Glasper (piano), Derrick Hodge (bass), Kendrick Scott (drums)
Side C
5. Memory of a Flame – Terence Blanchard
Terence Blanchard (trumpet), Brice Winston (tenor saxophone), Lionel Loueke (guitar), Aaron Parks (piano), Derrick Hodge (bass), Kendrick Scott (drums)
6. To Be Fair – Derrick Hodge
Derrick Hodge (all instruments)
7. Daydream – Kandace Springs
Kandace Springs (vocals, piano), Ambrose Akinmusire (trumpet)
Side D
8. Zero Gravity #913 – Wayne Shorter Quartet
Wayne Shorter (soprano saxophone), Danilo Perez (piano), John Patitucci (bass), Brian Blade (drums)
Blue Mitchell – Step Lightly
Blue Mitchell (trumpet), Joe Henderson (tenor saxophone), Leo Wright (alto saxophone), Herbie Hancock (piano), Gene Taylor (bass), Roy Brooks (drums)
Side A
1. Mamacita
2. Sweet and Lovely
3. Andrea
Side B
4. Step Lightly
5. Cry Me a River
6. Bluesville
ABOUT BLUE NOTE RECORDS
Blue Note Records was founded when a German immigrant named Alfred Lion produced his first recording session with boogie woogie pianists Albert Ammons and Meade "Lux" Lewis on January 6, 1939 in New York City. Blue Note has gone on to represent The Finest In Jazz, with an iconic aesthetic that coalesced around Lion's impeccable A&R instincts, Francis Wolff's elegant and insightful photography, the sterling sound quality that Rudy Van Gelder made his hallmark, and the strikingly original cover artwork of Reid Miles. The Blue Note catalog traces the entire history of the music from boogie woogie, hot jazz and swing, through bebop, hard bop, post bop, soul jazz, the avant-garde, and fusion, and into jazz's numerous modern day incarnations. Blue Note artists include a true Who's Who of jazz giants: Thelonious Monk, Bud Powell, Miles Davis, John Coltrane, Cannonball Adderley, Sonny Rollins, Horace Silver, Art Blakey, Jimmy Smith, Dexter Gordon, Lee Morgan, Grant Green, Donald Byrd, Freddie Hubbard, Joe Henderson, Herbie Hancock, Wayne Shorter, McCoy Tyner, Ornette Coleman, and many more.
After a brief dormancy from 1981-1984, Blue Note returned reinvigorated by the leadership of Bruce Lundvall and has since established itself as the most respected and longest running jazz label in the world. Lundvall carried forth the Blue Note legacy over the course of the nearly 30 years he presided over the label, documenting cutting-edge jazz artists like Greg Osby and Jason Moran, while also hearing the promise in genre-straddling singers like Cassandra Wilson and Norah Jones. The same must be said of Don Was, the consummate music man who became President of the label in 2012 and is now charged with leading Blue Note into the future. Was keeps his ear to the ground listening for the next artists who are going to change the music, while signing broad-minded vocalists like Gregory Porter, José James, and Kandace Springs, and honoring the legacy of jazz by bringing the label's legends home like Wayne Shorter, Dr. Lonnie Smith, and the late Bobby Hutcherson. Blue Note Records is one of the flagship labels of the Capitol Music Group.
For more information contact:
Cem Kurosman at Blue Note Records (p) 212.786.8634 (e) cem.kurosman(at)umusic(dot)com
Kelly Vogt Campbell at Harmonica (p) 310-927-4537 (e) kelly(at)harmonica(dot)co
Mark Ballard at Harmonica (p) 646-391-0453 (e) mark(at)harmonica(dot)co