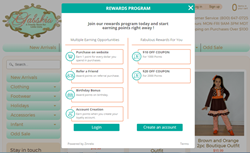 By taking a 360 degree approach to customer engagement, we can now use a range of strategies to engage with customers and promote our brand. Zinrelo's highly scalable platform allowed us to achieve our goals and maximise the return on our investment. - Julia Pendleton, Founder of Gabskia
SUNNYVALE, Calif. (PRWEB) November 08, 2017
Boutique children's clothing retailer Gabskia is using Zinrelo's 360 degree loyalty rewards program to build up a base of highly engaged customers who are loyal to the brand. The brand is using multiple strategies to maximize customer engagement and boost repeat purchases on the website.
Gabskia is running a multi-channel customer loyalty program across its website and mobile app, making it convenient for customers to interact with the brand. Moreover, to encourage user enrollment, the brand is also promoting the loyalty rewards program in the footer section of its website. When clicked, the link pops up an outline of the Gabskia Rewards Program.
"We were keen to drive engagement with new customers and at the same time were actively looking to boost the loyalty of our existing customers. Zinrelo's tiered loyalty rewards program has allowed us to do just that," commented Julia Pendleton, Founder of Gabskia. "By taking a 360 degree approach to customer engagement, we can now use a range of strategies to engage with customers and promote our brand. Zinrelo's highly scalable platform allowed us to achieve our goals and maximise the return on our investment through highly engaged customers."
The 360 degree continuous engagement cycle of the loyalty program rewards its users for multiple interactions on the Gabskia website.

Account creation – 200 points
Purchases – 2 points for every dollar spent
Birthday bonus – 200 points
Referring a friend – 1000 points
Following Gabskia on Instagram – 50 points
Sharing Gabskia on social media (Twitter, Facebook and Pintrest) – 50 points each
In addition, the brand offers a range of exciting redemption options for its loyalty program users. The generous scheme allows for points redemption from 500 points upward. Redemption amounts range from a $5 coupon code for 500 points to a $50 coupon code for 4,000 points.
To ensure that the users are continually updated and engaged with the loyalty program, Gabskia sent out email notifications of the program to its customer base. These email notifications update users on earned loyalty points, redemption actions, new program level attained, unclaimed loyalty points and summary of the account.
"The Zinrelo program takes loyalty rewards to the next level," commented Samir Palnitkar, VP of Customer Success at Zinrelo. "The APIs allow for unlimited flexibility and customization on the part of the business user, meaning they can shape their loyalty rewards program as per requirements. We've blended outstanding functionality with ROI-based reporting for real-time results analysis, giving companies everything they need to build loyal user engagement with their brand."
The enterprise-grade Zinrelo loyalty rewards program has been proven to increase customer retention and revenue. Companies that use the easy-to-implement loyalty rewards system can look forward to an increase in repeat sales of up to 80%, a boost in average order value of up to 33% and up to 2.4X more per-user revenue. Some of the differentiating features of the loyalty program are as follows;
1. 360-Degree Engagement module: This feature allows businesses to reward its customers in multiple ways by adding custom activities for rewards.
2. Powerful Marketing Promotions Engine: This unique feature based on business rules can help businesses build sophisticated reward scenarios to maximize user engagement.
3. Omni-Channel support: The loyalty rewards program can be deployed seamlessly across desktop web, mobile web, mobile apps and in-store environments.
4. Powerful API access: Zinrelo loyalty rewards program has been developed using an API-first approach. It is the only loyalty rewards program in the world that can be seamlessly embedded within your business processes completely via APIs and Webhooks.
About Gabskia:
Gabskia is an established fashion brand for baby outfits and clothes for little girls and boys. Its wares are designed to delight fashion conscious parents and trend-setting youngsters alike.
For more information, visit https://www.gabskia.com/
About Zinrelo:
Zinrelo brings you the world's best loyalty rewards and referral programs, helping to maximize revenue per customer and new customer acquisition through 360-degree customer engagement. It supports omni-channel interactions including desktop web, mobile web, mobile apps and in-store engagements.
Zinrelo loyalty rewards program boosts per-customer revenue by 2.4 times and repeat purchases by 80%. It creates fiercely loyal customers that are rewarded for all forms of engagements including purchases, social advocacy, reviews, sign-ups, referrals, photo sharing and more. It is fully customizable and is easy to deploy. Zinrelo referral program delivers a 25% uplift in new customer acquisition by converting your customers into brand ambassadors.
To zing your loyalty and referral programs, contact Zinrelo at http://www.zinrelo.com or info(at)zinrelo(dot)com