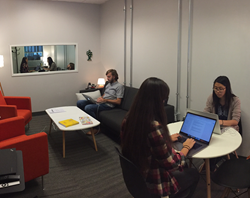 "The new labs are a cornerstone of our mission: to help learners to be more successful and to help instructors and institutions to be more successful, we want to engage with and learn from learners every day, at every step of the way." -Dr. Jeff Bergin, Vice President of Learning Research and Design
AUSTIN, Texas (PRWEB) November 13, 2017
Last week, Macmillan Learning joined leading technology companies investing in labs - such as Apple, Google, and IBM - to open its first combined user-centered design and learning science lab, in Austin, Texas. More than 100 people joined to celebrate the launch and to hear leading experts discuss how research drives a transformation in designing next-generation learning products. "Our labs reflect our focus on and commitment to the learner," said Dr. Jeff Bergin, Vice President of Learning Research and Design at Macmillan Learning. "These facilities put learners at the center of our research and design teams and enable us to engage with our users as co-designers on a daily basis."
The Austin Learning Lab is the first in a series of new labs that will enable learning researchers and human-centered designers to co-design and iteratively test with students and instructors to create learning products that are highly usable and highly impactful. The lab comprises an adjoining observation room, remote broadcast capabilities, and usability software. It is also designed to support neurological and biometrics technology and will expand to enable researchers to study affective, cognitive, and physiological responses to product designs.
The lab was designed based upon highly successful labs at IBM and the National Cancer Institute, principles of environmental design, and consultation with leading expert Dr. Robert Atkinson, the Director of Arizona State University's Advancing Next Generation Learning (ANGLE) Lab. According to Dr. Atkinson, "Labs enable researchers to simulate learning environments, to introduce new features into these environments, and then observe and record how learners' respond in order to optimize the environments' ability to support learning. It's exciting to see Macmillan making strides in this area, and I'm glad to be able to help them design research methods as well as research tools for the Learning Lab."
The Lab will enable Macmillan to strengthen its leadership in learning research by modeling learning, blending innovative research methods into actionable results, and fostering a culture of research inclusivity and collaboration.

Modeling Learning. The lab provides a space in which to model learning with an individual or small group in a controlled setting. Combining tightly controlled lab work with on-campus field research with partner instructors and institutions enables researchers to compare how learning experiences work under ideal and real circumstance, and make refinements accordingly.
Blending Innovative Methods into Actionable Results. In the lab, researchers can bring together methods from different disciplines, including educational research, human-computer interaction, and data science. These "blended" methods enable researchers to draw connections between formerly disparate concepts, such as usability and learning impact. The subsequent pairing of attitudinal and observational research with biometrics and just-in-time analytics will offer a thorough view into student performance that can be immediately applied to product design, iteration, and optimization.
Fostering Research Inclusivity and Collaboration. The lab is also designed to enable more teams from across Macmillan Learning to participate in research, and to fully understand how instructors and learners are engaging with products. This transparency and collaboration will enable teams to learn from results and customer insights much faster.
The lab will be led by a research council, comprised of Dr. Jeff Bergin, VP Learning Research and Design; Sarah Calandro, Director User Experience; Chris Luedtke, User Researcher; Dr. Kara McWilliams, Sr. Director Impact Research; Alicia Nachman, Sr. Director of User Experience; and Dr. Becca Runyon, Manager Learning Research. It will evolve with guidance from our Learning Research Advisory Board comprised of Dr. Christopher Dede, Dr. Mark McDaniels, and Dr. Robert Atkinson.
According to Dr. Bergin, "What we're most excited about is what our new labs will enable us to do deeper and faster: to learn more about the needs, aspirations, and struggles of learners; to learn more about learning itself and how we can drive better outcomes; and to learn how we can relentlessly improve our products and support. The new labs are a cornerstone of our mission: to help learners, instructors, and institutions be more successful. Now we can engage with and learn from our customers every day, at every step of the way.."
For more information on our approach, please visit: http://www.macmillanlearning.com/catalog/page/learningscience
About Macmillan Learning:
Macmillan Learning improves lives through learning. Our legacy of excellence in education informs our approach to developing world-class content with pioneering, interactive tools. Through deep partnership with the world's best researchers, educators, administrators, and developers, we facilitate teaching and learning opportunities that spark student engagement and improve outcomes. We provide educators with tailored solutions designed to inspire curiosity and measure progress. Our commitment to teaching and discovery upholds our mission to improve lives through learning. Macmillan Learning includes both academic and institutional divisions. To learn more, please visit http://www.macmillanlearning.com or see us on Facebook, Twitter, LinkedIN or join our Macmillan Community.