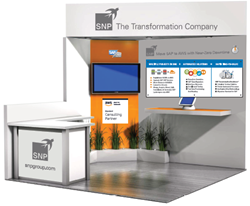 As the cost of downtime, planned or unplanned, continues to rise, Near-Zero Downtime will become the standard for the next-generation of SAP Transformation
JERSEY CITY, N.J. (PRWEB) November 20, 2017
SNP Transformations, Inc. (SNP) today announced it will sponsor and exhibit at AWS re:Invent 2017 in Las Vegas, NV. SNP will introduce SAP customers to an accelerated Amazon Web Services (AWS) cloud migration path via one of the world's first cloud-based automated transformation software.
AWS re:Invent 2017, a learning conference hosted by AWS, will welcome over 40,000 attendees from leading cloud technology companies. SNP will offer Near-Zero Downtime (NZDT) solutions for those companies looking to migrate their ERP landscape to AWS.
"As the cost of downtime, planned or unplanned, continues to rise," says Ralf Mehnert-Meland, President at SNP "Near-Zero Downtime will become the standard for the next-generation of SAP Transformation." "SNP's cloud-based automated transformation software provides an accelerated, low-risk, near-zero downtime migration path for SAP customers looking to run their application on AWS."
You can find the SNP team at booth #1541 Nov. 27 through Dec 1 at the Sands Expo Hall.
About SNP:
SNP helps companies transform business models with software and services that make it easier to execute changes in global business applications. Supplemented by its global services teams, SNP has the world's leading data transformation software for automatically analyzing, applying, and tracking changes in IT systems, significantly improving business processes, and making transformation projects such as mergers, acquisitions, carve-outs, cloud migrations, and others faster and more efficient.
The SNP Group employs over 1,350 people worldwide from its headquarters in Heidelberg, Germany. With revenues of 81 million EUR in 2016, it is on track towards 110 million EUR in 2017. Established in 1994, SNP went public in 2000, and has been listed in the Prime Standard segment of the Frankfurt Stock Exchange since August 2014 (ISIN DE0007203705). For details, visit http://www.snpgroup.com.