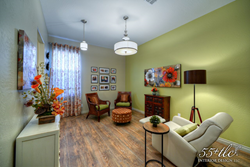 "The client needed private living quarters to meet the needs of her father and help ensure his safety and comfort and to support his dementia," Lewis said. "It's an honor to be recognized with this award. People don't have to sacrifice beauty for safety. My designs provide both to those over 50."
Phoenix, Arizona (PRWEB) November 14, 2017
Bonnie J. Lewis, principal and founder of 55+ TLC Interior Design, LLC, was awarded first place in the Universal Design / Aging in Place category from the American Society of Interior Designers (ASID) Arizona North chapter for her interior remodel design solution creating an In-Law Suite.
The award was presented to Lewis at the ASID Design Excellence Awards 2017. The winning project evolved around the needs of her client's father who was wheelchair bound and required an Alzheimer's-supportive environment.
Lewis designed and drew the remodel plans for the client's home, converting two bedrooms and a narrow Jack & Jill bathroom into an Aging-in-Place, ADA- compliant multi-generational home. The new suite includes a living room, bedroom, and bathroom with ample space for wheelchair access and care assistance.
"The client urgently needed private living quarters to meet the needs of her father and help ensure his safety and comfort," Lewis said. "It was important, too, that the area include features to make daily living easier for him by working in design elements of color, light and queuing to support his dementia."
Contrasting colors, bright lighting, and a "Memory Wall" were added to provide dementia support. Lewis designed the suite to include wide doorways and slip-resistant, flooring to ensure safety for wheelchair usage and caregivers alike. The shower is curb-less, includes a bench, support bars, and a handheld shower, along with a custom-designed bathroom vanity and linen closet to allow for wheelchair access. Senior-friendly finishes and fixtures completed the suite.
One of three ASID 2017 Design Excellence Awards Lewis won this year, the Residential – Universal Design/Aging in Place category was initiated in 2014 to encourage the design of an inclusive product or environment for use by all ages and abilities. Because of Lewis' accessible, supportive, and beautiful remodels, she received top marks for the category three out of four years. Lewis is dedicated to creating universal and aging-in-place design solutions for Boomers and seniors that provide safety and accessibility while also utilizing beautiful elements to add an inspiring and luxurious and touch.
"It's an honor to be recognized with this award," Lewis said. "I believe that universal and aging-in-place design can be just as beautiful as they are functional. People don't have to sacrifice accessibility for beauty, or vice versa, and my remodel design solutions help anyone over age 50 find the best of both worlds."
About Bonnie J. Lewis
Bonnie J. Lewis, Allied ASID, Assoc. IIDA, CAPS, is the principal and founder of 55+ TLC Interior Design, LLC. She is a degreed, highly-specialized senior living interior designer and NAHB Certified Aging in Place Specialist. Bonnie is passionate about improving physical environments to support psychological, emotional, and physical wellness to help people enjoy their "second chapter in life." Since 2013, she has designed award-winning commercial and residential Senior Living, Aging in Place and Universal Design spaces that are beautiful, functional, and reliable for Boomers and Seniors to life longer, more productive lives.
About 55+ TLC Interior Design 
Based in Scottsdale, Arizona and founded by senior living interior designer and NAHB Certified Aging in Place Specialist Bonnie J. Lewis, Allied ASID, Assoc. IIDA, CAPS, 55+ TLC Interior Design, Inc. is focused on commercial senior living and healthcare design and residential remodel design for aging in place. Commercially, the company caters to independent, assisted living and memory care communities and care homes that want to increase occupancy and marketability while improving residents' quality of life. Residentially, 55+ TLC Interior Design caters to discriminating Baby Boomers and seniors who want a beautiful, individually tailored home that makes life easier and sustains independence as long as possible. For more information, please visit http://55plustlc.com.