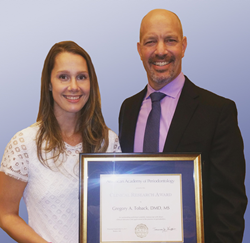 NEW LONDON, Conn. (PRWEB) November 09, 2017
Well-regarded periodontist in New London, CT and Westerly, RI, Dr. Gregory Toback, has received a special honor for his clinical work from the prestigious American Academy of Periodontology (AAP). Dr. Toback and a team of esteemed colleagues published research entitled, "A randomized, controlled, multicenter clinical trial of post-extraction alveolar ridge preservation," which led the AAP to present them with the Clinical Research Award.
The research conducted by Dr. Toback and his team examined innovative ways to provide patients with better soft tissue healing, as well as improved ridge preservation, before the placement of dental implants. His hope is to expand the abilities of periodontics and enhance treatment options for patients with continued study and research.
The AAP's Clinical Research Award is given to periodontal professionals who offer the public and their peers outstanding published scientific articles with direct clinical relevance to periodontics. Recipients of the Clinical Research Award must present the AAP with articles that meet several key criteria, including direct application to periodontics and an offering of new information.
Dr. Toback's award-winning research was published in the December 2016 Journal of Clinical Periodontology. Contributing to the information and studies necessary for his piece, Dr. Toback applied his experience as a practicing periodontist in New London, CT and Westerly, RI with his associate Dr. Marianne Urbanski. As a Diplomate of the American Board of Periodontology, Dr. Toback strives to offer the latest dental techniques and technology at his state-of-the-art practice, Shoreline Periodontics.
Drs. Toback and Urbanski place dental implants and offer related periodontal and gum disease treatments, including the LANAP® protocol and Chao Pinhole® Surgical Technique. They are currently accepting new patients seeking a periodontist in New London, CT or Westerly, RI. Shoreline Periodontics can be reached by calling 860-443-2428.
About the Doctors
Shoreline Periodontics is a periodontal practice offering personalized dental care for patients since 1998 and is located in New London, CT and Westerly, RI. Leading board-certified periodontist, Dr. Gregory A. Toback, received his B.A. from St. John's University and his Doctorate of Dental Medicine from the University of Connecticut. He also received advanced training in periodontics and dental implants at the University of Texas Health Science Center in San Antonio. Dr. Toback focuses on minimally invasive surgeries, offering LANAP® and belongs to a small group of dental professionals currently providing the Chao Pinhole Surgical Technique™ for treatment of gum recession. Dr. Marianne Urbanski has been voted one of Connecticut's top dentists for more than seven years by Connecticut Magazine. Dr. Urbanski graduated cum laude from the College of Holy Cross in Worcester, Massachusetts where she earned a Bachelors' degree in Biology. She also received her Doctor of Dental Medicine degree and her Masters' of Dental Science degree from the University of Connecticut Dental School. Dr. Urbanski prides herself on offering caring, professional treatment to each patient. To learn more about Shoreline Periodontics and their dental services visit their website at http://www.shorelineperio.com or call 860-443-2428 for the New London, CT location, or 401-596-0000 for the Westerly, RI office.