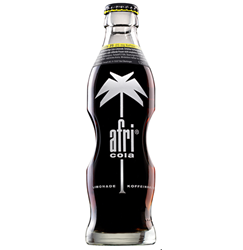 Napa, CA (PRWEB) November 10, 2017
afri cola has been enthusiastically received not only by many of the die hard fans who have had to wait over 15 years for its return, but also by a new generation of selective beverage drinkers who appreciate its unique and beautiful bottle design, use of real sugar and natural ingredients, and also the extra energy that comes from the original high caffeine formula.
It is the "original premium high caffeine cola" notes Steve Davis, a 30 year industry veteran who is the owner Classic Beverage Imports, the exclusive US importer of the afri cola brand. "afri cola has been around since the 1930's, when its original formula using real sugar and extra caffeine was created by Karl Flach of F. Blumhoffer Nachfolger company of Cologne, Germany" "The afri cola brand was available in the US in the late 1990's to early 2000's," explains Davis, "the brand was doing quite well, especially in the West coast, but in the early 2000's ownership changed in Germany and the new owners decided to get out of the export business. Basically afri cola all but disappeared overnight from the US market"
Understanding the current popularity of the craft soft drink segment, and learning that a passionate loyal following of the afri cola brand already existed, Davis jumped at the opportunity to bring afri cola back into the US market. "I reached out to many of my Distributor and Retailer contacts who had sold afri cola years ago. Every one of them was excited to hear that afri cola would be available again and committed to purchasing once the product hit US soil" said Davis. "Hearing that, and also learning about the rich and colorful history of the brand and many of its unique qualities, it was an easy decision to make the jump into bringing in the first containers of product"
The afri cola brand has gained acceptance across a wide variety of retailers. Current retail availability includes upscale grocers such as Nugget Markets, Harmons, and Raleys; beverage chains such as BevMo! and Total Wine and More (west coast locations); specialty retailers such as Rocket Fizz and Jungle Jim's; convenience retailers including franchise 7-11, Circle K, and Chevron Extra Mile locations; and many other independent markets, deli's, and on-premise accounts.
"Being able to reach 1,000 locations across numerous retail platforms within six months of being available again in the US is a huge accomplishment" says Davis, "it shows the popularity, versatility, and acceptance of the afri cola brand, and is just the tip of the iceberg in terms of where afri cola can be available for consumers looking for a premium and unique craft cola soft drink"
About Classic Beverage Imports
Classic Beverage Imports, based in Napa California, is the exclusive US Importer of afri cola. Classic Beverage Imports focuses on importing beverages that are of premium quality (real sugar, natural flavors, quality ingredients) and are unique in terms of packaging, product type/flavor, or occasion usage. Classic Beverage Imports sources products that have no or limited distribution within the USA, but have solid potential and will drive curiosity and excitement amongst new consumers.
For more information go to http://www.africola-usa.com or contact Steve Davis at steve(at)africola-usa(dot)com