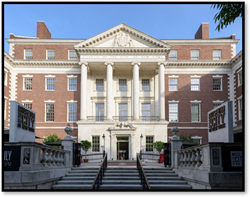 "This week of free admission is our way of saying thank you to all those who have made our first permanent exhibition a success so far and an invitation for anyone who hasn't seen it yet. We hope New Yorkers and tourists alike will join us in celebration at the top of Museum Mile, our treat!"
New York, NY (PRWEB) November 09, 2017
The Museum of the City of New York is proud to announce that in celebration of the one-year anniversary of New York at Its Core, the Museum will offer FREE ADMISSION to all visitors starting on Monday, November 13 and continuing through Sunday, November 19, 2017. The Museum will be open from 10 a.m. – 6 p.m. each day and will offer ticketed programs during the week.
The Museum will celebrate the anniversary on Sunday, November 19 with a FREE kid-friendly silent disco featuring music from KIDZ BOP; a birthday ceremony with a specially designed cake, dance and musical performances including multiple acapella sets from the New York Belles; and more.
New York at Its Core is the first and only Museum exhibition to cover the entire, dramatic, 400-year sweep of New York history alongside an interactive look at the city's future. The award-winning, critically acclaimed exhibition opened to the public on November 18, 2016. The New York at Its Core one-year anniversary celebration and unprecedented offer of weeklong free admission is made possible by generous support from Citi.
"Launching New York at Its Core was the biggest moment in the Museum's history, and we are so grateful for the amazing response and support we've seen from our visitors throughout this momentous year," said Whitney Donhauser, Ronay Menschel Director of the Museum of the City of New York. "This week of free admission is our way of saying thank you to all those who have made our first permanent exhibition a success so far and an invitation for anyone who hasn't seen it yet. We hope New Yorkers and tourists alike will join us in celebration at the top of Museum Mile, our treat!"
"Citibank is proud to lend our continued support to this dynamic historical overview of a vibrant city that's been our home for more than 200 years," said Will Howle, President, U.S. Retail Banking, Citi. "The City of New York has been a beacon of growth and progress throughout the past four centuries and this exhibit provides a truly inspiring window into where we've been and helps us better understand what's next."
Additional exhibitions on view include Beyond Suffrage: A Century of New York Women in Politics, Rhythm and Power: Salsa in New York, To Quench the Thirst of New Yorkers: The Croton Aqueduct at 175, and Art in the Open: Fifty Years of Public Art in New York, which opens to the public on Friday, November 11.
New York at Its Core Anniversary
Programs and Activities
KIDZ BOP Silent Disco
Sunday, November 19, 11 am – 3 pm
Filip Wolak – Silent Disco at the Museum, 2016
Kids and parents are invited to dance along to a KIDZ BOP silent disco! Enjoy a FREE family friendly silent disco dance party at the Museum of the City of New York featuring music from top-selling albums by KIDZ BOP, the #1 music brand for kids. This FREE family event is in celebration of the one-year anniversary of New York at Its Core. At silent discos, participants wear illuminated wireless headsets that allow them to choose their own soundtrack for listening and dancing pleasure. This completely free, one-of-a-kind chance for kids to experience a silent disco dance party in a Museum Mile cultural institution will be held in the Museum's newly renovated Ronay Menschel Hall on Sunday, November 19, from 11 am – 3 pm.
Faith in the Five Boroughs
Tuesday, November 14, 7:00pm
A Pastor, a Rabbi, and an Imam walk into a Museum…. 
In our deeply fractured present moment, join us for a conversation about the evolving – and increasingly vibrant – role of faith and faith communities in New Yorkers' lives today. Reporter Sarah Maslin Nir sits down with three religious leaders -- Rabbi Sharon Kleinbaum of Congregation Beit Simchat Torah, the world's largest LGBT synagogue, Pastor Kenneth Hart, self-proclaimed "Hood Pastor" of an unorthodox new church in Harlem, and Imam Shamsi Ali of the Jamaica Muslim Center, New York City's largest Muslim community center – in our latest edition of Only in New York. Reception to follow with complimentary beer courtesy of Harlem Blue. Only in New York with Times reporter Sarah Maslin Nir is a conversation series bringing together two distinctive New Yorkers from different worlds to explore key questions about the city's identity, culture, and history – glass of wine in hand.
$25 for adults | $20 for seniors, students & educators (with ID) | $15 for Museum members. Includes complimentary beer courtesy of Harlem Blue.
Block by Block: Christopher Gray's New York
Thursday, November 16, 6:30pm – 8:30pm
As the founder and writer of The New York Times "Streetscapes" column, architectural historian Christopher Gray wrote more than 1,450 articles between 1987 and 2014 in which he lovingly highlighted New York City's everyday buildings with his characteristically wry sense of humor. Gray's passion for exploring the city's design also prompted him to create the Office for Metropolitan History in 1975, a research site committed to bringing together disparate sources in individual collections about City buildings, thereby making their history more accessible to everyone, from tenants to scholars. To honor the passing of Christopher Gray (1950-2017), join us for a conversation with his friends and colleagues about his work and lasting legacy.
Paul Goldberger (moderator), architecture critic and Contributing Editor at Vanity Fair
Michael Leahy, longtime editor of Gray's "Streetscapes" column at The New York Times 
Francis Morrone, architectural historian
Suzanne Stephens, Deputy Editor of Architectural Record
This event is part of Core Conversations, a series of lectures, talks, and tours in which New York City's leading thinkers examine the four key themes of our New York at Its Core exhibition -- diversity, density, money, and creativity -- each through their own unique lens. To view all of the programs in the series, click here. Reception to follow.
$20 for adults | $15 for seniors, students & educators (with ID) | $10 for Museum members
Includes Museum admission.
FAMILY PROGRAM: Mi Ciudad Cuentos
Friday, November 17, 3:30pm – 5:00pm
In a city as diverse as ours, there are millions of stories to tell! Join us for a bilingual story circle and a snack as you listen to a picture book read aloud and folklore from various Spanish-speaking communities in New York City. Build your Spanish vocabulary through stories and hands-on experiences. All are welcome.
Bilingual storytime is geared to families with children ages 2–5 years old, though families with younger children are welcome. This program is designed for adults and children to enjoy together.
FAMILY PROGRAM: Honoring our Veterans
Saturday, November 11, 11:00am – 2:00pm
Veteran Firemen's Ass'n City of New York
Join the Museum of the City of New York in honoring citizens who have protected the United States. Explore patriotic posters and photographs of veterans from the Museum's collections. Then create a veteran flipbook to learn about and celebrate all that they do for our country!
Family programs are free with Museum admission and for Members, geared to families with children ages 6-12 years old, and include a snack. Activities are designed for adults and children to complete together.Registration suggested but not required.
New York at Its Core Anniversary Celebration is Proudly Presented by CITI.
Major funding for New York at Its Core and associated programs provided by James G. Dinan and Elizabeth R. Miller, Pierre DeMenasce, The Thompson Family Foundation, Jerome L. Greene Foundation in honor of Susan Henshaw Jones, Heather and Bill Vrattos, Charina Endowment Fund, National Endowment for the Humanities, Citi, and Zegar Family Foundation.
About the Museum of the City of New York
Founded in 1923 as a private, nonprofit corporation, the Museum of the City of New York celebrates and interprets the city, educating the public about its distinctive character, especially its heritage of diversity, opportunity, and perpetual transformation. The Museum connects the past, present, and future of New York City, and serves the people of the city as well as visitors from around the world through exhibitions, school and public programs, publications, and collections. To connect with the Museum on social media, follow us on Instagram and Twitter at @MuseumofCityNY and visit our Facebook page at Facebook.com/MuseumofCityNY. For more information, please visit http://www.mcny.org.
###
Media Contacts:
Jacob Tugendrajch, jtugendrajch(at)mcny(dot)org, 917.492.3480
Lisa Sherman-Cohen, lisa(at)gzandassociates(dot)com, 347.539.7382