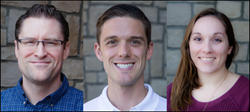 ...starting strong leads to a stronger online presence.
SPRINGFIELD, Mo. (PRWEB) November 09, 2017
In the July issue of Ophthalmology Business, Medical Consulting Group (MCG) presents four digital marketing tactics used to establish an online presence that generates a real return on investment for ophthalmic businesses.
The article, titled "Online and in sight: Building a prominent online presence," is authored by MCG's digital marketing team, including Director of Information Technology Brendan Gallagher, Medical Copywriter Leah Taylor, and Digital Marketing Manager Chase Rabourn.
"Building an online presence is not optional anymore," states Gallagher. "It's an absolute must for ophthalmic businesses looking to stay competitive. The problem is that building an effective presence is much more time consuming than many businesses anticipate."
"There's more to digital marketing than creating a great website, which takes quite a bit of time and commitment on its own," explains Rabourn. "Without the addition of social media and Google AdWords to direct consumers to those sites, it's difficult to become truly established on the web."
The aim of the article is to help ophthalmic businesses understand this complex process by starting with the basics. "In our experience," says Taylor, "starting strong leads to a stronger online presence. The four key strategies in this article explain how to develop a strong online foundation that a business can either develop on their own or outsource to digital marketing specialists," says Taylor.
MCG is a Missouri-based group of medical business consultants that has spent more than 28 years creating customized business solutions for medical practices, device manufacturers, and ambulatory surgery centers across the U.S. and in Canada. Often these solutions involve the development and execution of Google advertising strategies and digital marketing plans, as well as the development and management of responsive, search engine optimized websites.
To learn more about digital marketing and MCG services, visit MedCGroup.com or call (417) 889-2040 to request a complimentary consultation. Those attending the 2017 American Academy of Ophthalmology meeting may also schedule a time to speak with MCG consultants in New Orleans.