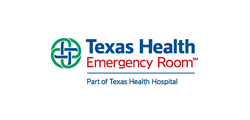 LEWISVILLE, Texas (PRWEB) November 09, 2017
Texas Health Emergency Room, the largest network of independent freestanding emergency rooms in the United States, named Dr. Heather Myers, as the Medical Director of its newest Carrollton facility.
"We are pleased to announce Dr. Myers will be the facility Medical Director of our newest Carrollton location," said Dr. Daniel Varga, Chief Clinical Officer and Senior Executive Vice President for Texas Health Resources.
Dr. Myers received her B.S. in Zoology from Texas Tech University and her medical degree from Baylor College of Medicine. She completed her emergency medicine residency at the Martin Luther King Drew Hospital, where she was named Chief Resident. Dr. Myers is board certified in emergency medicine and previously served as Facility Medical Director of Texas Health Emergency Room- Flower Mound. She currently resides in Bartonville, Texas with her husband and has six children.
Different from urgent care facilities, all Texas Health Emergency Room facilities are open 24 hours, 7 days per week and staffed exclusively with board-certified physicians and emergency trained registered nurses. The facilities are equipped with a full radiology suite, including CT scanner, Digital X-ray, Ultrasound, as well as on-site laboratories certified by the Clinical Laboratory Improvements Amendments (CLIA) and accredited by the Commission on Office Laboratories Accreditation (COLA).
The Carrollton facility will be located at 2745 E. Belt Line Rd., Carrollton, TX 75006. For more information, visit https://texashealthemergencyroom.com/locations.
###
About Texas Health Resources
Texas Health Resources is one of the largest faith-based, nonprofit health systems in the United States and the largest in North Texas in terms of inpatients and outpatients served. The health system includes Texas Health Physicians Group and hospitals under the banners of Texas Health Presbyterian, Texas Health Arlington Memorial, Texas Health Harris Methodist and Texas Health Huguley. Texas Health has partnered and affiliated with numerous organizations — from all aspects of the health care industry — to better serve the more than 7 million residents of North Texas. These relationships, along with other major initiatives and quality programs, are supported by Texas Health's more than 350 points of access, 23,000 employees and 5,500 physicians with active staff privileges, with the collective aim to provide employers and consumers in North Texas with more affordable, high-quality and better-coordinated care.