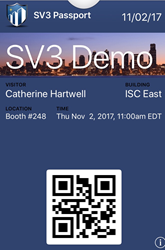 In the Lobby, with the advancements in smartphone technology, we see a real tipping point with SV3 Passport
NEW YORK (PRWEB) November 13, 2017
Building Intelligence clients can allow their visitors to walk straight to the turnstile and access additional secure areas using their smartphone by scanning the stored credential. Building Intelligence will demonstrate the features of SV3® at ISC East 2017, November 15th and 16th, Booth 248 at the Javits Center.
SV3® Passport adds the ability to store invitation QR codes in your Apple Wallet. With an iPhone or an Apple watch, visitors can maintain their credentials for visits with SV3®Passport. Combined with SV3®Kiosk, Building Intelligence generates a secure and efficient methodology for managing visitors.
"Many of our clients are tired of printing paper, spending money on badges that people just put in their pockets," says CEO Jeff Friedman."Besides shortening visitor lines and generating a streamlined visitor process, there are practical and economic reasons for switching to mobile credentials. With the advancements in smartphone technology, we see a real tipping point in how security is addressed in the lobby and throughout a facility's perimeter."
SV3® Passport combined with SV3® kiosk expands the capacity for visitor throughput without adding guard posts. Formal credentials such as driver's licenses and passports can continue to be part of the protocol as a breeder source document. SV3®Passport may be combined to support only individuals who have provisioned a verified Government ID as an enrolled visitor who can maintain credentials that allow them easy access to a facility.
About Building Intelligence Inc.
Building Intelligence is a software company providing innovative technology solutions for security practitioners and building owners to manage visitors, vehicles and vendors. Building Intelligence Inc. is a privately owned business. The firm's cloud-based solutions are uniquely positioned to provide the tools for managing visitors and vendors as they enter on foot through the front door or in a vehicle at the loading dock or parking area. The modular solution set is being widely adopted in many major metropolitan markets and being sold, deployed and supported by authorized security system integrators with expertise in the identity and access management domain.