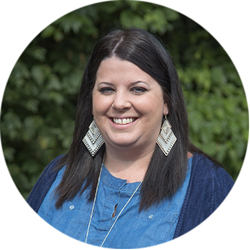 "It is refreshing having someone care about your home as if it were their very own...She deserves all the awards and praises there are to give." - Cabin Owners at Cabins for YOU
GATLINBURG, Tenn. (PRWEB) November 09, 2017
Mrs. Brandi Herbstritt, Housekeeping Manager at Cabins for YOU, was recently named 2017 Housekeeping Executive of the Year at the 2017 VRHP (Vacation Rental Housekeeping Professionals) and VRM (Vacation Rental Management) Intel Live National Conference in Gatlinburg, Tennessee. The prestigious award is a testament to the hard work, dedication, and passion Mrs. Herbstritt demonstrates each day in her role as Cabins for YOU Housekeeping Manager.
"Brandi has been a vital asset to our company for the last 6 years, transitioning in our housekeeping department from a contract cleaner to assistant housekeeping manager to housekeeping manager in 2016. She is very passionate about her job and strives daily to make our housekeeping team the best. She truly loves what she does, and it reflects in every aspect of her work." – Leslie Adcock, Executive Director of Operations at Cabins for YOU
With 15+ years' experience, Mrs. Herbstritt's passion for housekeeping and management has only grown over the years. She is constantly working to improve property standards for guests and cabin owners while simultaneously supporting her housekeeping staff inside (and outside) the office. Mrs. Herbstritt's nomination letters for this award came from Cabins for YOU employees, cabin owners, and guests - a true testament to the impact of her hard work.
Cabins for YOU is family owned and operated, serving Gatlinburg, Pigeon Forge, and Sevierville since 2001. Our cabin rentals range from cozy 1-bedrooms for honeymoons to impressive large-group lodges for reunions and retreats, boasting amenities like private home theaters and indoor pools, fully equipped kitchens and indoor and outdoor dining areas, fireplaces, spacious decks, loaded game rooms, Wi-Fi, and more!