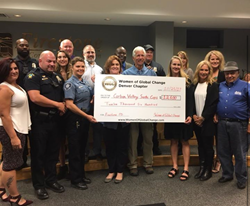 "This year we are grateful for the opportunity to give our support to our community's children in need," Aleea Watson WGC Chapter Co-President
DENVER (PRWEB) November 10, 2017
The carbon valley SantaCops program is a nonprofit program that brought smiles and Christmas wishes to disadvantaged children in Firestone, Frederick and Dacon. The joy of bringing Christmas to a child that may not even have one gift to open can be life changing.
On October 25th in front of The Town of Firestone Board of Trustees, along with Mayor Paul Sorensen, a check for $12,000 plus was presented to the Carbon Valley SantaCops program by the Women of Global Change - WGC Denver Chapter along with the Fair Hand Foundation. Also in attendance were Chief David Montgomery, Cheyenne Hunt, Dawn Moses, and Trent John.
SantaCops was started by Beverly Medina along with Angel Gahnstrom, and Michele Powers. They've been sharing the joys of Christmas for years as they have witnessed a steady increase in those that are not able to provide holiday season for the children.
The Carbon Valley SantaCops program last year served over 280 children for Christmas in northern Denver. This year that number will grow exponentially and so will the children who will be served.
Such organizations as Make A Wish Foundation and celebrities such as Ellen DeGeneres have long stood in support of children living their dreams. And this year many children in the northern Denver area will do just that.
The WGC – the Women of Global Change has been a force for good both nationally and internationally and is a recipient for four years in a row of the White House award for service. With the recent expansion of WGC US Chapters, they are now a consistent community presence in cities across the nation.
"This year we are grateful for the opportunity to give our support to our community's children in need. When the outside world is giving us every reason to worry we want to be there to bring families together and show them there is hope. We also want to recognize the police departments in Fredrick, Dacono, and Firestone for being a consistent light for so many kids and their community," stated Aleea Watson one of the Co-Presidents of the Denver Chapter of Women of Global Change.
Join the movement on Wednesday, November 29, 2017 where the funds raised will be used to purchase gifts. Then December 8, will be a wrapping party followed by December 9 when the children will be able to come meet Santa and pick up their gifts they have been blessed with. Donations and volunteers are very much welcomed and appreciated.
Women of Global Change Denver Presidents Melissa Tietz and Aleea Watson and their members are leading the charge by collecting gifts, cash donations and volunteers to help make this Christmas Season a great one for the children of these areas and they need your help!
To join the movement visit the Firestone website http://www.firestoneco.gov/index.aspx?NID=141 Help WGC Denver and SantaCops make this a GREAT Christmas for these children!
More about Women of Global Change: http://womenofglobalchange.com/