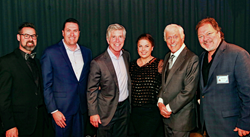 SAN BERNARDINO, Calif. (PRWEB) November 09, 2017
The first Los Angeles based fundraiser for the newly formed The Dick Van Dyke Foundation for the Performing Arts was held November 4, 2017, at Garner Holt Productions factory in San Bernardino. A dinner, tour through the animatronic factory, demonstrations, silent auction and variety show hosted by Tom Bergeron ("Dancing with the Stars") and featuring a performance by Dick Van Dyke and the Vantastix, provided a magical experience to the nearly 200 guests in attendance at the sold out event.
The Foundation, formed by Van Dyke, was established to provide funding to nonprofit organizations and schools, which empower youth to explore the performing arts and pursue their dreams.
Having been inspired by the creations of Van Dyke's character, Charactacus Potts, from "Chitty Chitty Bang Bang," Garner Holt Productions has become a leading sponsor of the Foundation and is the world's largest supplier of animatronic and robotic figures to theme parks worldwide.
More information on the Foundation can be found at http://www.OfficialDickVanDyke.com and https://www.facebook.com/DickVanDykeFoundation/
CONTACT:
Ellen Dawson, Volunteer Assistant to Todd Regan
Executive Director, The Dick Van Dyke Foundation for the Performing Arts
EllenSDawson(at)gmail(dot)com