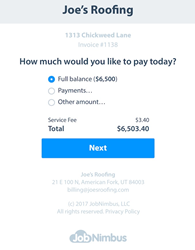 AMERICAN FORK, Utah (PRWEB) December 04, 2017
CRM and project management software maker JobNimbus announced it has partnered with integrated payments provider WePay to embed payment processing within its application.
JobNimbus Payments empowers current and future JobNimbus account holders to set up online payment processing and start getting paid within minutes, all within the same sales and productivity software. These users can add a payment button to emails and digital invoices, and integrate other collection tools. Contractors' customers, meanwhile, can pay quickly and securely with any bank account, credit card, or debit card.
This will ultimately translate to contractors getting paid more often, and more easily at a time when payment collection ranks among contractors' biggest pain points. What's more, at a time when the industry grapples with a skilled labor shortage, getting paid faster also means contractors can pay their own subcontractors more quickly, thereby helping to attract and retain the best labor when they need them.
JobNimbus Co-founder Nick Wood explained, "Our goal with JobNimbus Payments was to create a turnkey solution to the payment collections problem that would not only make it easier for the end customer to pay, but also simplify the process so our customers can spend time growing other areas of their business."
WePay Director of Partner Success Rachel Page added, "Experience tells us this is going to be a big win for JobNimbus users. We're delighted to join forces with the JobNimbus team to offer industry-leading payments options within their go-to software, to help them get paid quickly and easily."
This announcement comes after significant testing with a subset of contractors using JobNimbus.
"We are getting an overwhelmingly positive response from customers using JobNimbus Payments," reported Jason Wood, JobNimbus Customer Success Manager. "The most exciting thing we are hearing about is how it's helping them collect money earlier in the customer lifecycle. This is important because it allows them to close deals that might be lost later on if payment isn't collected."
WePay brings to JobNimbus expertise from providing integrated payments to Constant Contact, GoFundMe, Meetup, and more than 1,000 other online platforms and marketplaces.
About JobNimbus: JobNimbus, LLC was created in 2011 with the cooperation of leading industry trainers to solve the problem of customer and project management. JobNimbus is the first CRM developed from the ground up to be an ultra-simple, usable, yet powerful tool to help contractors take control of their jobs like never before. Find out more by contacting JobNimbus Sales Manager Jake Dempsey or visiting JobNimbus Payments.