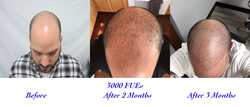 NEWPORT BEACH, Calif. (PRWEB) November 10, 2017
Samson Hair Restoration, an innovative hair transplant company in Los Angeles, California announced today three new locations to add to their current location in Sherman Oaks, CA. The company has added locations in Sunset Beach, CA; Redondo Beach, CA; and Newport Beach, CA at the addresses below.
Working with Dermfx, which offers a complete array of dermatologic procedures for men and women, Samson is integrating their procedures into the Dermfx facilities. In addition to its superior quality FUE and FUT hair transplant procedures, Samson will also be offering robotic hair transplantation utilizing the Artas system in the Newport Beach facility. Consultations are available at each facility.
16501 Pacific Coast Hwy
Newport Beach, CA 92663
432 S. Pacific Coast Hwy
Redondo Beach, CA 90277
2430 W. Pacific Coast Hwy
Sunset Beach, CA 90742
"We've operated Samson in the San Fernando Valley for more than 15 years and have treated patients from all over, with many coming from Orange County area. For the convenience of people in the Orange County area we were pleased to join with Dermfx in this endeavor," commented Tina Yeghiazarian.
"Through our association with Dermfx, we've also been able to add robotic hair transplant procedures," continued Yeghiazarian.
Samson has a well-earned reputation for outstanding quality hair transplant procedures utilizing their proprietary design process. We're very excited to be able to extend our hair transplant services from Los Angeles County into Orange County.
Contact: Tina Yeghiazarian
818-383-9496
tina(at)samsonhairrestoration(dot)com