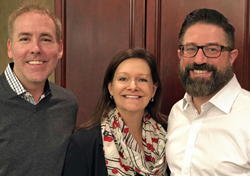 Essential to our growth is a best-in-class regional 'people platform' for recruitment, retention and performance.
Minneapolis, Minn. (PRWEB) November 09, 2017
New Perspective Senior Living announced today that it has hired, former Brookdale Vice President, Pam Engle as Senior Vice President, People & Administration. In her new role, Engle will be responsible for co-leading the strategic planning and consistent implementation of all facets of the human resources and administrative functions across the organization.
"Essential to our growth is a best-in-class regional 'people platform' for recruitment, retention and performance," said Ryan Novaczyk, New Perspective Senior Living President and CFO. "Adding Pam's exceptional expertise along side the recent hiring of Tracy McGraw as Vice President of Human Resources, clearly demonstrates the commitment we are making to our existing people and anybody looking to join and thrive in a growing entrepreneurial organization focused on helping seniors Live Life On Purpose."
Engle is a 20 year veteran of Emeritus/Brookdale Senior Living. Most recently she held the position of Vice President, Total Rewards at Brookdale and immediately prior to that Senior Vice President Benefits, Compensation, and Risk Management at Emeritus Senior Living. Over the years, Engle has held a variety of roles including Executive Director, Regional Director of Operations, and Divisional Finance Director.
"I'm excited about advancing New Perspective's goal of being an employer of choice and developing innovative solutions to the work force challenges we face as an industry, " noted Engle. "I was drawn to New Perspective because the company has a sense of purpose that is very personal and top of mind at every level of the organization. I love the idea of working with people who bring that level of passion to what they do and where you feel closely connected to the seniors and the families you're serving."
Engle earned her Master of Business Administration degree from Southern Oregon University and her Bachelor of Science from California State University, Stanislaus. She is a Certified Benefits Professional (CBP) and a Certified Compensation Professional (CCP). Engle also serves on the Board of Trustees for the Council on Employee Benefits and is a member of the Argentum Human Resources Executive Roundtable.
"Pam's depth and breadth of expertise within senior housing makes her an extraordinary utility player and a huge asset to our company," said Chris Hyatt, New Perspective Senior Living Partner & COO. "I'm ecstatic to have Pam join New Perspective, adding to the overall power and potential of the team we've assembled as we build toward the future."
ABOUT NEW PERSPECTIVE SENIOR LIVING
Founded in 1998, New Perspective Senior Living (NPSL) is a family owned company that develops, owns and operates vibrant senior living communities in Minnesota, North Dakota, Wisconsin and Illinois. Its foundational belief — that all seniors deserve to Live Life on Purpose® and age with dignity — was forged from the personal experience of Founder and CEO Todd Novaczyk and his family. For seven years, they cared for his mother-in-law, Betty Berkeley in their home as she struggled to maintain her strong, independent spirit while coping with Alzheimer's disease.
Today, New Perspective Senior Living operates 21 senior living communities serving over 2,000 seniors through Independent Living, Assisted Living and Memory Care options, with a goal to be serving 10,000 seniors by 2025. Based in Eden Prairie, Minn., the company has won multiple awards including Top Assisted Living Facility, Best-of-the-Best Dining Experience and Top Workplaces. In addition, Todd Novaczyk, was recently profiled in the Senior Housing News, The Leadership Series, while Ryan Novaczyk was just named to 50 for the Next 50 by LeadingAge of Minnesota.