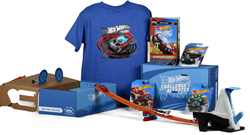 What better way to inspire the challenger spirt in every kid than with a box of Hot Wheels stunts sent straight to your home.
SANTA CLARA, Calif., (PRWEB) November 09, 2017
Today, Pley.com and Hot Wheels announced the Hot Wheels™ 'Challenge Accepted' subscription box. Using the box and its contents, kids will be able to create, experiment and build unlimited stunts with their favorite Hot Wheels cars.
"We are delighted to work with Hot Wheels to deliver a unique play experience that gives children the opportunity to build their own stunts and set personal records," explains Ranan Lachman, CEO of Pley.com. "Each challenge reveals the record breaker in every kid, every box will inspire them to jump further and loop bigger – I wish this was available when I was a child."
Each bi-monthly delivery includes a Hot Wheels collectible car, over 15-pieces of Track Builder, an activity book with stunts and Hot Wheels apparel. The box itself is also part of the challenge and connects with the track builder set included.
"All the play packed into this box is a reminder that Hot Wheels is more than just a die-cast car, it's a complete system of play that inspires creativity and problem solving," said Chris Down, Global Head of Hot Wheels. "What better way to inspire the challenger spirt in every kid than with a box of Hot Wheels stunts sent straight to your home."
To order a Hot Wheels 'Challenge Accepted' subscription box visit http://www.pley.com/hotwheels, where subscriptions begin at $22.99 per box.
About Pley.com
Pley.com is the leading subscription service for children and provides a monthly activity box that surprises, delights and educates. With Pley, kids use their creativity and imagination playing with the brands they love, while parents save money, entertain their children and conserve the environment. Pley has been delivering happiness to children (and parents) since 2013. For more information visit: http://www.pley.com
About Mattel
Mattel is a global learning, development and play company that inspires the next generation of kids to shape a brighter tomorrow. Through our portfolio of iconic consumer brands, including American Girl®, Barbie®, Fisher-Price®, Hot Wheels® and Thomas & Friends™, we create systems of play, content and experiences that help kids unlock their full potential. Mattel also creates inspiring and innovative products in collaboration with leading entertainment and technology companies as well as other partners. With a global workforce of approximately 32,000 people, Mattel operates in 40 countries and territories and sells products in more than 150 nations. Visit us online at http://www.mattel.com.