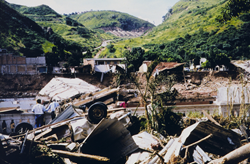 People concerned about their immigration status need to be aware that they still have legal rights.
LOS ANGELES (PRWEB) December 07, 2017
A November 6 article in the Chicago Tribune reports that temporary protected status (TPS) originally granted to Nicaraguan immigrants in 1998 has been revoked; the result is that some 2,500 individuals who have lived in the U.S. for nearly 20 years may have 14 months to leave the United States permanently. Meanwhile, the fate of some 57,000 Honduran migrants, who were also granted TPS in the aftermath of Hurricane Mitch, will be decided at a later date by the Department of Homeland Security (DHS); the status of 50,000 Haitians and 200,000 Salvadorans also remains unclear, according to the Tribune. Los Angeles based immigration lawyer Henry A. Posadas says that this incident is another unfortunate example of the uncertainty plaguing immigrants nationwide. The attorney adds, however, that people concerned about their immigration status need to be aware that they still have legal rights.
Mr. Posada notes that recent changes in immigration policy have been extremely worrying for countless people from all over the world, but particularly those originally from Latin American and Islamic nations. Moreover, immigrants' concerns are valid as ICE appears to be stepping up enforcement in various ways that have raised many civil rights concerns. At the same time, Mr. Posada cautions that immigrants who wish to stay in the United States have some reason for hope because of a number of legal avenues open to them. That's why it's important for immigrants and their families to learn as much as possible about their particular situation. The attorney also notes that the assistance of competent legal counsel is often essential to securing fair and just results.
As for people who are trying to obtain lawful residence and who may be facing some resistance, Mr. Posada notes there are legal strategies that can be highly effective. He adds that, even in cases where an individual may have problems with the law in his or her past, post-conviction relief may be a very promising pathway open to people with criminal histories in California—measures that can be utilized with the help of experienced counsel. He also notes that, for documented individuals who desire help obtaining legal permanent resident (green card) status and who may wish to eventually become United States citizens, there remains a great deal that can be done to ensure that the process goes forward.
Readers who would like to learn more about their immigration status and the options open for themselves or a family member are invited to contact the Law Offices of Henry A. Posada at (562) 904-9080 or visit the law firm online at http://www.hposadalaw.com.