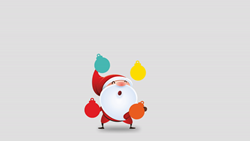 (PRWEB) November 13, 2017
Crafters and families will have a new option for personalizing their Christmas this year. Create Ornate has launched a new DIY Christmas Tree Ornament Kit that lets anyone put a more personal touch on the holidays.
Each kit creates four large ornaments with a surprisingly wide range of supplies. That should give anyone the room to experiment and create truly unique decorations for the Christmas Tree.
As Create Ornate's founder Jack Anzarouth explained, "With Create Ornate, the only limitation is imagination."
Start with four clear, shatterproof plastic ornaments with Create Ornate's signature twist off cap. Choose to leave the ornament clear and fill it with colorful feathers. Or use the kit's acrylic paint to make a solid foundation for more decorations like 3D paint and gemstones. Four colors of glitter are included - simply coat the interior to turn the ornament into a sparkly ball - or sprinkle on the 3D paint to highlight patterns and messages with glitz.
Jack described how much thought and testing went into choosing each item in the kit. "We wanted to make the experience unique - something to cherish and use for years. But getting there meant sweating through so many small details."
Stickers are one example of what Jack said ought to be straightforward. "Put writing or pictures on one side and glue on the other. How hard can it be? The thing is, stickers are flat and want to stay flat. We had to design stickers that would stick to a round object and stay that way."
The thoughtfulness did not stop there, even for stickers. "We also wanted to make these projects more accessible," Jack explained. "Each sticker can be pulled off and put back on to the ornament so kids - and anyone else - don't have to worry about getting things 'wrong'. They simply move the sticker until it's just right."
The quick drying, yet erasable, markers are another way Create Ornate has made the creation process oops-proof. Crafters can focus on putting personality into their projects without worries that a small slip will ruin their heartfelt messages to loved ones.
An interesting way to use the kit that goes beyond the family decorations is as part of a fun, unique activity at holiday parties. Ask each guest to make a Christmas wish and then create an ornament that expresses that wish. The gather everyone for a tree-trimming ceremony. As each guest hangs their ornament on the tree, they share their wish with everyone else. It's a great way to get everyone in the spirit of the season and it lets them take a unique party favor home with them.
The DIY Christmas Tree Ornament Kits are available directly from Create Ornate's website for only $25. This affordable addition to the Christmas season promises to add a unique touch to holiday decorations in homes across the country.
About Create Ornate
Create Ornate is a start-up designer of affordable crafting kits that unlock everyone's creative potential. Its first product, the Christmas Ornament Kit lets families make Christmas personal again. Create Ornate will introduce more kits in 2018 to meet a wide range of creative interests.