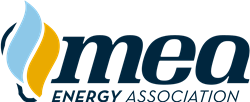 Bloomington, Minn. (PRWEB) November 09, 2017
MEA Energy Association (MEA), formerly known as Midwest ENERGY Association, is proud to announce the launch of a new website at MEAenergy.org, featuring an updated logo and brand identity. The website is designed to improve user experience and more easily adapt to the needs of our members and potential members. The refreshed brand demonstrates a commitment to increase learning opportunities and expand beyond a regional association.
"The new MEA Energy Association brand is driven by the fundamental requirement that sustainable organizations review and adjust to their member's changing needs," says MEA President Patrick Van Beek. "The refreshed brand reflects what most member and industry personnel already know as MEA."
MEA members reported a desire for "fresh offerings and a clear strategic vision that includes partnering with other associations, expanding the membership, and strengthening leadership training." In order to fulfill these strategic initiatives, MEA streamlined our market presence by enfolding our online courses at EnergyU under MEA and better defined our brand identity with a refreshed look and style. MEA contracted with Strother Communications Group to refresh the MEA brand and help design the new MEA website. The refreshed logo is heavily based on the logo used from 1998 through today—a nod to the past—with a fresh, current feel.
The revised logo incorporates the words "energy association" to help complete the transition from Midwest ENERGY Association to MEA. These words also state what MEA does and who MEA serves. The accompanying tagline "MEA Learning Empowers™" represents the vision of remaining a viable learning association well into the future.
Van Beek further explains, "The tagline stays true to our values of continuing to make MEA an association that empowers member learning."
Similarly, the structure of MEAenergy.org provides better event information and easier access to the online learning system EnergyU. We now offer one sign in location for accessing members-only content and EnergyU. Members and EnergyU subscribers are encouraged to update records and bookmarks with the new domain (@MEAenergy.org).
Sub-brands
Energetic Women and National Gas Rodeo, programs of MEA, also released new websites and updated branding. The websites at energeticwomen.org and nationalgasrodeo.org reflect the layout, look, and feel of the new MEA website.
About MEA:
MEA Energy Association (MEA) serves the people that deliver electricity and natural gas to homes and businesses. MEA was founded as a trade association over 100 years ago by distribution utilities, whose vision was to improve safety and efficiency. Today, energy delivery companies and their contractors around the globe benefit from MEA's industry learning seminars, operations summits, and other events. Members collaborated to develop EnergyU, the world's premier online training and testing system for gas and electric distribution utilities.