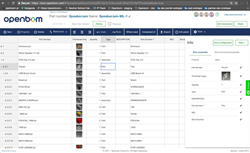 The Factory at AU demonstrates the technological leadership of Autodesk Fusion 360 and OpenBOM's unparalleled management of BOMs in the cloud
NEWTON, Mass. (PRWEB) November 13, 2017
OpenBOM, the first real-time bill of materials and inventory management system for engineering, manufacturing, and supply chain, integrated with Autodesk Fusion 360 product innovation platform, will help with the planning, design, and manufacture of a powered speaker. The hands-on program at Autodesk University 2017 will give attendees an opportunity to experience the entire manufacturing process, from concept to finished product, in the exhibition hall.
As part of The Factory Powered by Fusion 360, OpenBOM together with Fusion 360 will streamline the design to manufacturing process by helping designers, engineers and contractors collaborate in real-time and coordinate activities in planning, assembly and procurement.
OpenBOM functionality to be featured in The Factory include:
● "One-click" BOM generation from within Fusion 360;
● BOM sharing & real-time collaboration within the Factory setting;
● Creating and maintaining Part Catalogs; and
● Generating Order BOMs.
Additional OpenBOM features attendees will experience firsthand include simultaneous BOM editing across The Factory, a single browser-based dashboard for easy access and management of BOMs, tracking BOM records and creating and managing BOM revisions along with viewing history of changes and generating change reports. Attendees will also export BOMs from OpenBOM directly to Excel, PDF, and CSV files, as required.
"We are excited to participate in The Factory Powered by Fusion 360 at Autodesk University to showcase the product innovation platform" said Oleg Shilovitsky, CEO and Co-founder of OpenBOM, "extending Fusion 360 with multi-tenant BOM management and inventory control functions will make it easier for users to streamline their product development process." "We are thrilled to have OpenBOM as part of The Factory, which demonstrates the technological leadership of Autodesk Fusion 360 and OpenBOM's unparalleled management of BOMs in the cloud," said Garin Gardiner, Sr. Business Development Manager, Autodesk.
OpenBOM will be featured in Booth #E402e in the exhibition hall within the Product Innovation Factory.
About OpenBOM
OpenBOM was co-founded by Oleg Shilovitsky and Vic Sanchez, both experienced software industry veterans. OpenBOM develops new cloud information management technology to manage BOM and related product information across networks of engineers, supply chain managers, and contract manufacturers. OpenBOM enables people to collaborate on the Bill of Materials from initial design through all stages of engineering, manufacturing, and supply chain. Headquartered in the Boston, MA area, OpenBOM's website is at http://www.openbom.com. Learn more how OpenBOM is the new alternative to BOM spreadsheets. For more information or questions please contact vic(at)OpenBOM(dot)com. OpenBOM is a wholly owned and branded product of Newman Cloud, Inc.
Autodesk and Fusion 360 are registered trademarks or trademarks of Autodesk, Inc., and/or its subsidiaries and/or affiliates in the USA and/or other countries.